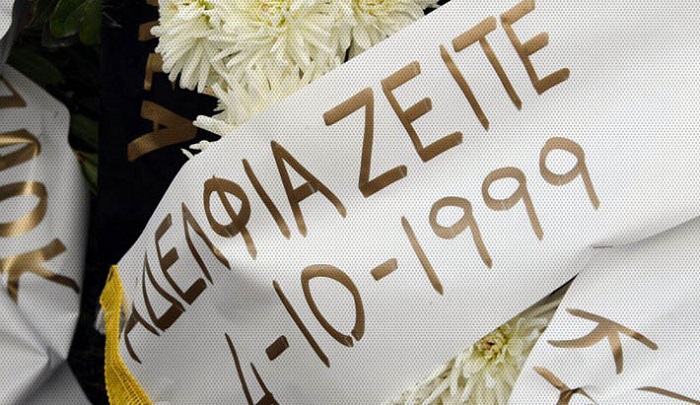 Time doesn't go by, it stops…
Six names stand the test of time, 15 years now, as nobody at PAOK has forgotten them…
Charalampos, Dimitris, Christina, Anastasios, Giorgos, Kyriakos… Your love for PAOK brought you here, left you here and went beyond. Your love has become a beacon of devotion and loyalty to the four-letter ideal for those who sit by your seats, remember your outings and shed tears recollecting that fateful evening of October 1999.
Your beloved habit, your addiction to the "Double-Headed Eagle's" worship led you to the double-decker bus that drove you to the Olympic Stadium of Athens on 3 October. You were there, you chanted for PAOK, you celebrated Nagbe's equalizer and then boarded the bus again for the trip back home.
By dawn, you were tired, as every time that you would travel hundreds of kilometers in one day in order to stand by the team, show your devotion, teach every newcomer what determination is.
The change of driver proved fatal… A clumsy overtake, two kilometers away from the Tempi tolls, loss of control and the Kordelios Fan Club bus drove off the road to plunge down…
Thousands of "why" questions have been asked, thousands of pages filled with the survivors' memories have been written about that dreadful accident at Tempi.
Strong memory is the essential ingredient for the maintenance of PAOK's character and values that unite so many souls to sing the same chants, to applaud the same emblem, to sacrifice so much, to sacrifice themselves…
Since then, guys, another chant has been added to the lot. You would sing it too, were it not about you: "Brothers, you are alive and guiding us…" Indescribable shiver… You should feel proud that everybody sings as one…
We all begged that the clock would turn back. We prayed so hard, but it wasn't to be. We didn't resign however. We swore we would not let time pass you by. We would not remember you just on the anniversary of that day. We remember and get inspired by you always.
Time stopped on 04.10.1999… On that day, PAOK mourned. Since that day, PAOK are "maimed". Whatever we achieve and dedicate to you, we will always pray that you could be here with us…