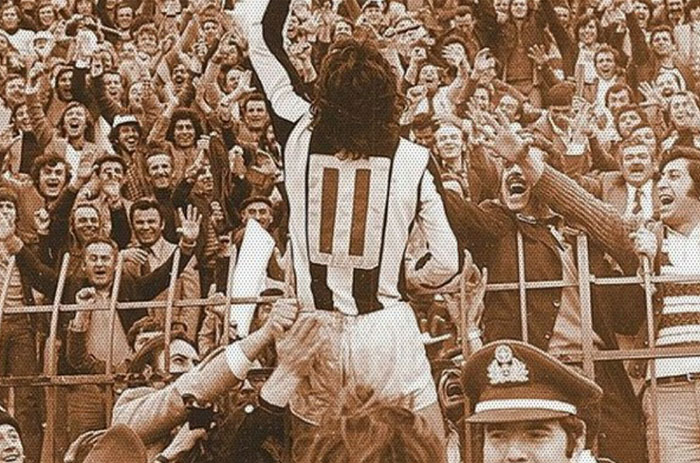 From Nino Sallusto to today
They came to Thessaloniki from all over the world –from 54 countries to be exact- in order to put on the PAOK shirt. The first one, however, was in Greece for a different reason. Nino Sallusto, recorded as the first foreign footballer of the club, was an Italian student at the Aristotle University of Thessaloniki and joined PAOK in 1959, making the most of a regulation concerning students back then. He signed for one season, but failed to impress. Nobody knows is he rendered better in his studies…
 It took 14 years for the next non-Greek players to cross the Toumba threshold, as the regulation permitting the participation of foreign footballers in the Greek league came into force in 1974-75. PAOK then acquired Swiss goalkeeper René Deck and Brazilian striker Guerino Neto.
 In the following years, especially after the introduction of Greek football in the professional era in 1979, signing of foreign players became the rule rather than the exception. The Bosman ruling further boosted the European Union football market and non-Greek players started gaining ground and claiming several positions in PAOK's roster.
 Most of the 198 foreigners who have played for PAOK throughout the years, are Europeans –a total of 122. There are 39 South-Americans on the list, 35 stem from Africa, two from Central America and three from Oceania.
 Brazil is the country most represented with 21 players, Serbia is second in the list with 17, Poland is third with 9 players at PAOK, while Egypt (8) and Spain and Argentina (7) complete the top six.
 In the current season, PAOK has 23 foreign players on its roster: Antonio Colak, Leo Jaba, Moussa Wague, Jose Angel Crespo, Leo Matos, Fernando Lopes dos Santos Varela, Sverrir Ingi Ingason, Rodrigo Rey, Enea Mihaj, Douglas Augusto Soares Gomes, Omar El Kaddouri, Andrija Zivkovic, Nika Ninua, Adrian Nilsen Pereira, Stefan Schwab, Adelino Vieirinha, Rodrigo Alves Soares, Zivko Zivkovic, Anderson Esiti, Josip Misic, Thomas Murg, Karol Swiderski  and Diego Biseswar.