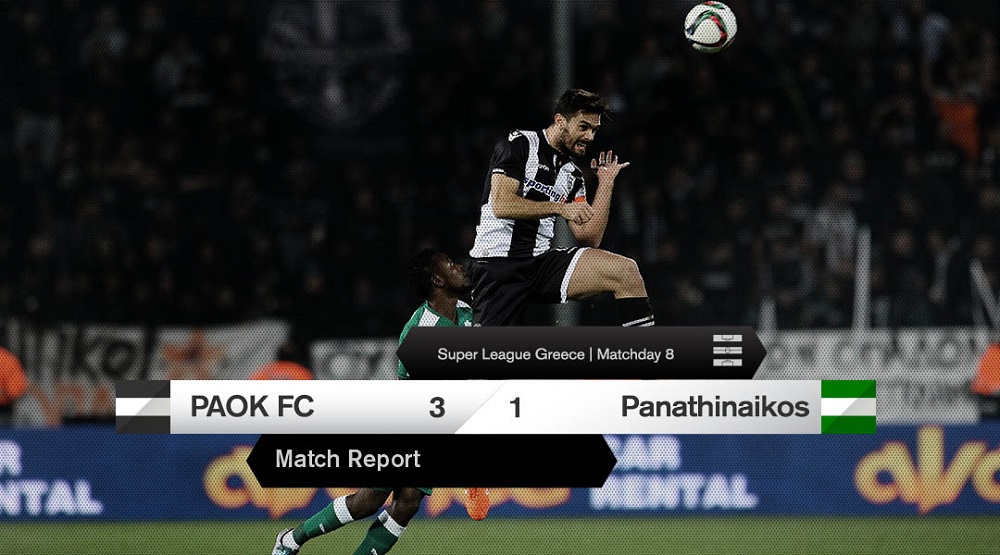 This time round no "gifts" were handed to the rivals and there was confidence in all lines. The "Double-Headed Eagle" put on one of their trademark performances and cruised to a 3-1 victory over Panathinaikos. By "trademark performance" we refer to PAOK setting the pace, having possession, more attempts on goal, more runs and more duels won, as they did even in matches where they failed to get the desired result (at Giannina or Kaftanzoglio, for instance). However some aspects of the game get highlighted through victories. By adding accurate finishing and full defensive concentration to the mix, the "Double-Headed Eagle" prevailed 3-1 over the "Greens".
The match kicked off with both sides doing recon work. Panathinaikos seemed content to wait in their own half, while PAOK needed 15 minutes to "read" their rivals before stepping on the throttle. From minute 16, when Jairo unleashed the first shot until minute 42, when PAOK made it 3-0, Igor Tudor's troops attacked in waves and were relentless. Garry Rodrigues earned a penalty from Tavlaridis and Dimitar Berbatov converted it to atone for his missed spot kick in Kaftanzoglio. However he was forced to leave the pitch after goal celebrations with a groin injury.
Garry Rodrigues danced circles around Panathinaikos's defenders in the play that led to the second goal. Teed up by Jairo, he couldn't be intercepted by anyone. His first shot was saved by Steele but Tavlaridis couldn't clear in time and the Cape Verde winger collected the rebound and stroked the ball home. Another fine collective move of PAOK was the origin of the third goal, a header by Μiguel Vítor. It was an intoxicating first half, during which the "Double-Headed Eagle" weren't bothered in defence.
After the interval, PAOK opted for contention game. Even so, the best chances were created in Panathinaikos' box and wasted by lack of luck or hasty moves. The "Greens" managed to reduce distances from the spot, with Marinakis getting fouled by Marin Leovac. The visitors increased a bit their possession percentage, but they couldn't alter the complexion of the game or the result.
Line-ups:
PΑΟΚ (Igor Tudor): Glykos, Vítor, Costa, Tzavellas, Rodrigues, Tziolis, Sabo (71′ Charisis), Leovac, Mak, Jairo (83′ Athanasiadis), Berbatov(31′ Pelkas).
Panathinaikos (Giannis Anastasiou): Steele, Marinakis, Thelander, Tavlaridis, Nano, Koutroubis (61′ Klonaridis), Zeca, Abeid (83′ Petrić), Ajagun, Karelis (83′ Lagos), Berg.