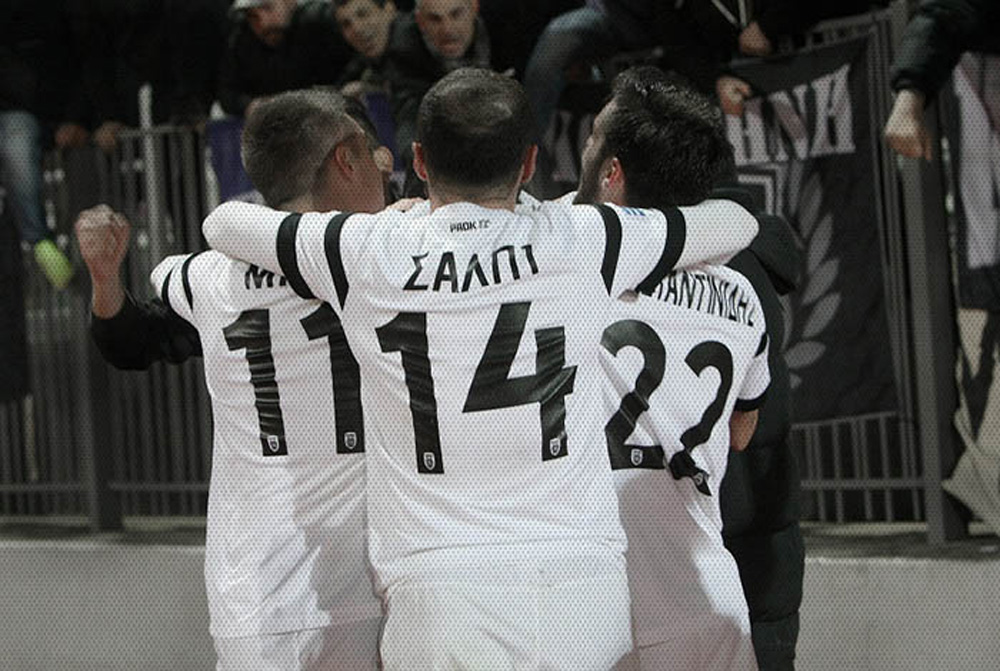 Victory despite everything…
Everybody was expecting PAOK's reaction and they were treated to a display of the spirit that keeps them close to the top despite all adversity. PAOK are back on track and it was made evident by their wild celebrations after the final whistle for a victory against AEL Kalloni. A win achieved despite the refereeing mistakes (?) that exasperated the usually calm Angelos Anastasiadis and mainly despite their own introversion and pressure created after the bad performance and the result of the Tripolis match.
PAOK had to dig deep in order to pull the 2-1 win off and played well although they were deprived of luck. The home side took the lead after just seven minutes of play and added pressure to the "Double-Headed Eagle". Mitsios' errors (?) caused Ergys Kace's burst and dismissal. The teams headed to the dressrooms for the interval with PAOK all but beaten, reduced to ten, trailing by a goal, while Kalloni were passionate. Apart from the red card, the referee denied Hedwiges Maduro and Kace some obvious fouls outside the area and cautioned Miguel Vítor unfairly.
Despite the hardships, it all worked out. Those who dismissed PAOK chances, didn't count on the wounded pride of Anastasiadis' troops. The Mytilini outfit were caught cold in the second half, not knowing what hit them or where Facundo Pereyra came from after the interval. With two goals from inside the goal area teed up respectively by Stefanos Athanasiadis and Róbert Mak, they turned the tie around and looked determined to hold on to their lead. Charles Itandje saved a second consecutive spot kick in as many matches, PAOK could not earn even the most obvious fouls and of course their request for a penalty on Mak was dismissed. The victory showcased PAOK's determination to keep fighting for the league –and that is the most important conclusion of the evening.
Line-ups:
AEL Kalloni (Matzourakis): Hogg, Anastasiadis, Vallios, Adejo, Keita (65′ Stevanović), Kaltsas, Pipinis (76′ Mingas), Tsabouris, Leozinho (66′ Camara), Manousos, Juanma.
PΑΟΚ (Anastasiadis): Itandje, Konstantinidis, Vítor, Katsikas, Raț, Maduro (46' Tzandaris), Kace, Pereyra, Mak (92' Skondras), Σαλπιγγίδης (96' Papagiannopoulos), Athanasiadis.