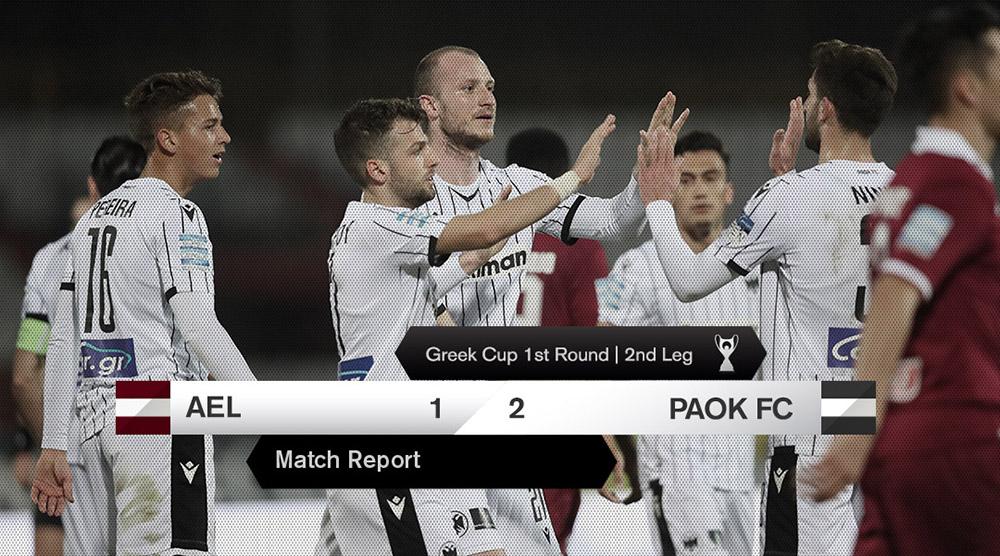 A win, qualification, and new faces
PAOK recorded their second win in succession over Larissa in the Greek Cup, sealing qualification to the quarter-finals with a 7-1 aggregate scoreline over two legs. This second victory, by a 2-1 result at the Alkazar, saw PAOK introduce some new faces to competitive action.
The match had minimal interest for both sides, since PAOK's 5-0 win at the Toumba in the first leg meant that there was little chance of Larissa staging a comeback. The match was, however, an excellent opportunity for the coaching staff of two clubs to rotate their squads and introduce some of their new faces and players who have not had much playing time.
PAOK began with Paschalakis in goal and Lyratzis at right back, while there were also starts for Michailidis in central defence, Tsiggaras in midfield with Ninua, and Lamprou on the wing.
In the other dugout, Gianluca Festa also made plenty of changes, with Ben-Hatira and Moukandjo both making their debuts for Larissa.
The two teams came out with an appetite to play good football, and the match had a good tempo. After 16 minutes Lamprou hit the woodwork after a fine piece of individual skill, while three minutes later Tsiggaras struck to open the score.
The young midfielder scored his first goal for the Double-headed Eagle with a low, diagonal shot, and 10 minutes later PAOK doubled their advantage thanks to Krmencik , who headed home a corner delivered by Ninua .
In the 39th minute Larissa reduced the deficit when Pereira accidentally directed the ball into his own net following a corner sent over by Maksymenko, and the teams went into the dressing room at half-times at 1-2.
In the second half play was interupted by a flurry of changes from both coaches, and that somewhat prevented the rhythm of the game from picking up speed. PAOK did keep creating chances, however, and both Lamprou and Koutsias were denied by the frame of the goal, while Shinji Kagawa made his bow and narrowly failed to convert a chance. Vrakas came off the bench and put the ball in the net but his effort was ruled out for offside, and Larissa goalkeeper Nagy pulled off the save of the match to deny Koutsias in added time.
PAOK are safely through to the last 16 and attention now turns to the draw for the quarter-finals which takes place on Friday (05.02, 11:30).
Team lineups:
Larissa: Nagy, Jakimovski (82' Maidanos), Gotzamanidis, Maksymenko, Graur (66' Glinos), Iliadis, Ben-Hatira (62' Milosavljević), Pionakas, Karanikas, Trujic (62' Jusino), Moukandjo (62' Nunic).
PAOK: Paschalakis , Lyratzis , Crespo , Michailidis, Pereira (46' Rodrigo ), Ninua , Tsiggaras, Warda (63' Kagawa ), Lamprou (78' Vrakas ), Murg (46' Α.Ζivkovic), Krmencik (63' Koutsias ).