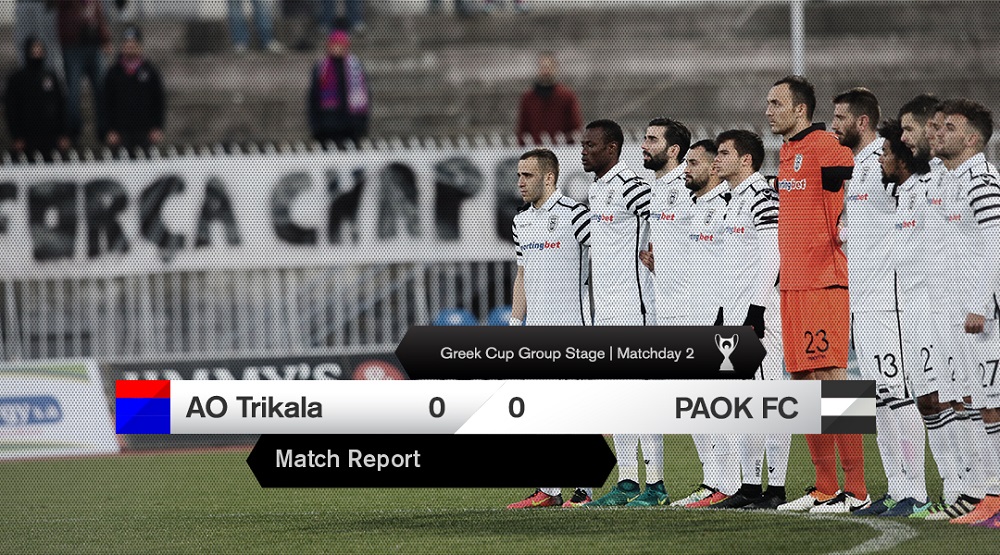 Qualification is in their hands
PAOK played a goalless draw at Trikala for matchday 2 of the Greek Cup group stage, but continue holding their own fate in their hands.
Vladan Ivić made many changes to his regular line-up and the team couldn't convert their ball possession to goal against a very lively rival.
Trikala attempted to startle PAOK from minute 1, when Baykara sent the ball just wide from a favourable position. As the "Two-Headed Eagle" were trying to find their footing, the home side continued to press forward. PAOK carved out their first attempt on goal in the 26th minute, with a long-range shot by Diego Biseswar.
Siderakis saved Facundo Pereyra's fine individual effort in the 28th minute. PAOK couldn't find open space to claim something more out of the first half.
After the interval, the "Two-Headed Eagle" were determined to be more aggressive, but despite moving play to Trikala's half, they couldn't break the deadlock and the match finished undecided. PAOK now have 4 points in their group.
Line-ups:
ΑΟ Trikala: Siderakis, Νikolakakis, Golias, Vertzos, Pinto, Μumin, Rizogiannis, Serginho (77' Stevanović), Giannitsanis, Doukakis (71' Mingas), Baykara (84' Κouskounas).
PΑΟΚ: Brkić, Kitsiou, Μalezas, Crespo, Giannoulis (80' Leovac), Charisis, Shakhov, Biseswar (60' Pelkas), Thiam, Μystakidis, Pereyra (70' Αthanasiadis).