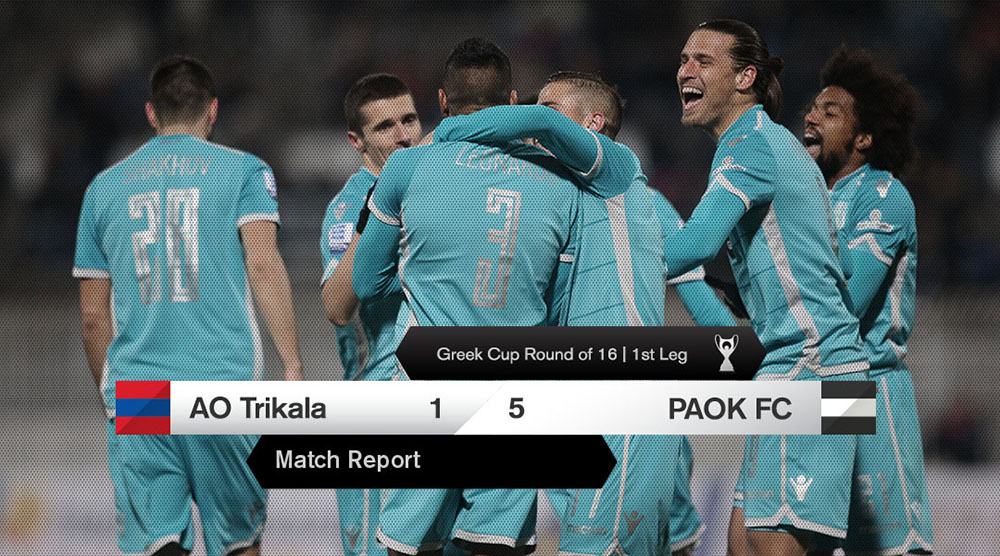 Passage to quarters secured
In very low temperatures and on an unplayable pitch, PAOK players were eager to play attractive attacking football and go for an early goal.
The "Double-Headed Eagle" players got their reward with their first good chance in the game. Dimitris Pelkas provided an excellent through-ball to Aleksandar Prijović, the latter's shot was denied by Apostolidis, but lurking Léo Matos got the rebound and made it 1-0 from up close. Prijović and Gojko Cimirot wasted fine opportunities to double PAOK's lead. Against the run of play and only 10 minutes after their opener, Trikala equalized, Panos converting Golias's cross with a header.
Despite that setback though, PAOK continued on the driver's seat, but were finding it hard to carve out chances in their opponents' box. The two sides hit the dressing rooms for the interval, after a shot by Pelkas, a header by Matos and two attempts of Trikala to take the lead.
The second half was totally different for both sides. PAOK hit the pitch determined to finish off the tie –and achieved it comfortably.
In the 49th minute, referee Fotias waved PAOK's claim for a spot kick, when Diego Biseswar was brought down by Giannitsis. Eight minutes later, Matos gave the lead to PAOK again with a header, following a corner kick by Pelkas. This goal boosted the "Double-Headed Eagle" players who never looked behind again.
In the 70th minute, Biseswar was set up brilliantly by Prijović and made it 3-1 with a close-range shot. Ten minutes later, Djalma Campos scored PAOK's fourth following an assist by Yevhen Shakhov. The Ukrainian midfielder also got his name on the scorers' sheet deep into stoppage time for the final 5-1 result.
Line-ups:
ΑΟ Trikala (Sotiris Antoniou): Apostolidis, Vertzos, Giannitsis (66' Zguri), Kotsonis, Panos, Golias, Chintzidis (66' Dinas), Tomić, Andreopoulos (73' Tsiaras), Grontis, Kapos.
PΑΟΚ ( Răzvan Lucescu ): Rey, Matos, Deligiannidis, Varela, Malezas, Biseswar (82' Mystakidis), Pelkas (76' Koulouris), Limnios (69' Campos), Shakhov, Cimirot, Prijović.