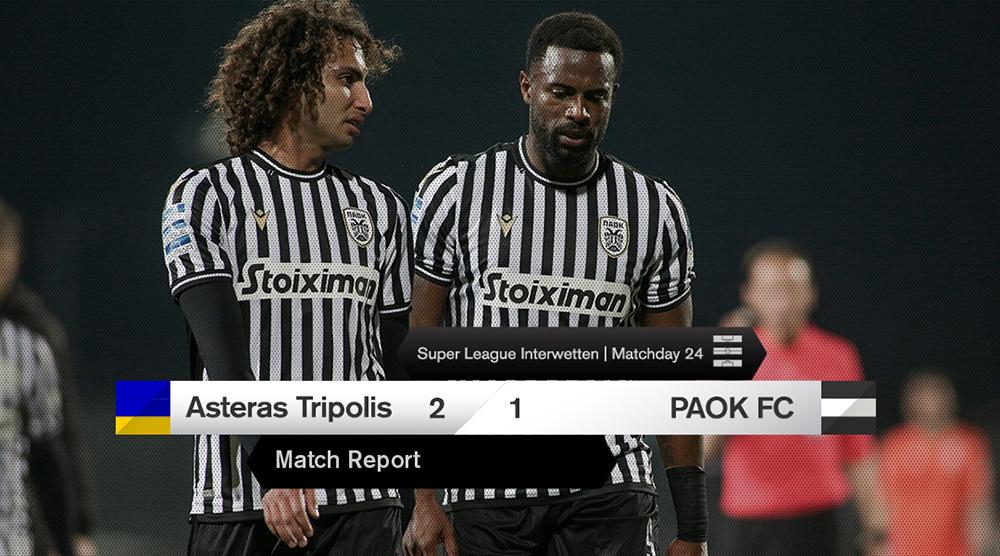 PAOK traveled to Tripoli with several problems. They were without the injured trio of Crespo, Douglas and Mihaj, while Ingason and Schwab were also missing through suspension. In addition, Tzolis and A. Zivkovic had only been in full training for the last two days of the week due to niggling injuries.
Nevertheless, the Double-headed Eagle were the superior side for most of the match, creating numerous opportunities, but unfortunately did not manage to leave the «Theodoros Kolokotronis» with any points.
PAOK began the match in dynamic fashion and created an opening in the first minute, but Suarez cleared the ball away from danger after Krmencik had lobbed Tripoli keeper Tsiftis.
Asteras responded to that with a shot from Munafo from a good position in the third minute. However, the visitors went back on the offensive and created another chance in the 21st minute when Zivko Zivkovic found Krmencik with a big ball. The Czech forward put the ball in the net but his effort was ruled out for offside by a marginal decision.
In the 31st minute, Tsiftis had to make an excellent save from Murg's free-kick, while Warda then hit the crossbar in the 35th minute with a shot from outside the penalty area. Then, against the run of play in the 38th minute, Asteras took the lead with Sito scoring with a clinical finish from inside the penalty box.
PAOK looked to respond immediately, but Krmencik initially failed to make a good contact with the ball within the six-yard area and then Warda struck a shot from a good position, but his effort was blocked amongst the bodies thrown into the penalty area to defend the attack.
The Double-headed Eagle created another good chance shortly before the break, but Warda could not convert the opportunity and the score remained 1-0 to the hosts at teh half-time break.
The second half started in the worst possible way for the visitors. In the 54th minute Fernandez controlled a headed pass from Barrales and beat Zivkovic to make it 2-0.
From that point on, Asteras dropped back and that gave space for PAOK to work in,  and the Double-headed Eagle went in search of the goal that would put them back in the game.
The coaching team threw on everyone they had at their disposal to bolster the attack, and a goal finally came in the 84th minute with A. Zivkovic scoring for the third match in succession with a briliant strike. Unfortunately, despite late pressure, PAOK could not conjure up an equalizer.
Team lineups:
Asteras Tripolis: Tsiftis, Kotsiras, Alvarez, Castano, Suarez, Valiente, Munafo, Sito (84′ Capilla, 92′ Riera), Crespi (67′ Tilikas), Luis Fernandez (67′ Iglesias), Barrales.
PAOK: Zivkovic, Rodrigo (63′ Baba), Varela, Michailidis, Vieirinha, Tsingaras, El Kaddouri (63′ Kagawa), Warda (84′ Swiderski), Murg (46′ A. Zivkovic), Lamprou (46′ Tzolis) Krmencik.