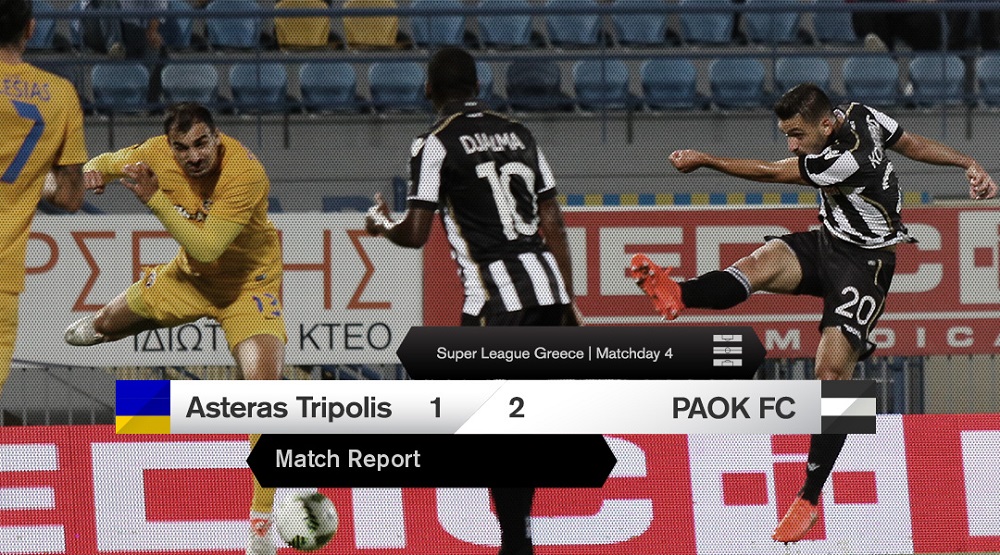 The home ground of Asteras Tripolis had always been tricky for PAOK, but this time around they prevailed 2-1, maintaining their perfect record in the league. Efthymis Koulouris scored a brace to repay Vladan Ivić for including him in the starting line-up.
The Serbian coach fielded once again a determined team on the pitch. From minute one, the "Double-Headed Eagle" gained control and brought the game around Asteras's box. The home side were pressured by the Thessaloniki players, conceded many set pieces in their half, but PAOK didn't take advantage of them.
The match was decided actually in a spectacular 5-minute span halfway through the first half. Εfthymis Koulouris proved at first how a central forward goes after the goal. He was at the right place to collect the rebound after Diego Biseswar's shot and Košický's save to score the opener in the 22nd minute!
Two minutes later, the young striker displayed his execution prowess with a half volley following a cross by Garry Rodrigues towards the far post. This strike practically sealed the match!
It was a hard-fought encounter with strong tackles and man-marking situations. Just before the interval, Bertos planted his studs on José Ángel Crespo's side. He was rightfully sent off, increasing the "Double-Headed Eagle's" advantage.
In the second half, it was clear that PAOK invested on their lead and tried to maintain it without taking unnecessary risks. Asteras earned a penalty and converted it, but actually that worked as a wake-up call for Vladan Ivić's troops who created more chances (Rodrigues had a shot on woodwork, Koulouris had a one-on-one, Stelios Kitsiou's shot went just wide, as did Djalma Campo's header), but failed to score more goals.
Actually, Monday's victory could be regarded as the eraser of the 3-point deduction handed to PAOK. Because the "Double-Headed Eagle" managed to encounter points where they would fail in previous seasons.
Line-ups:
Asteras Tripolis: Košický, Bertos, Sefil, Kourbelis, Giannoulis, Iglesias (83′ Hamdani), Tsoukalas, Fariña (71′ Mazza), Kaltsas, Tsilianidis (46′ Igor), Ioannidis.
PΑΟΚ: Glykos, Matos, Varela, Tzavellas, Crespo (46′ Kitsiou), Cañas, Shakhov, Biseswar (87′ Pereyra), Rodrigues (78′ Mystakidis), Campos, Koulouris.