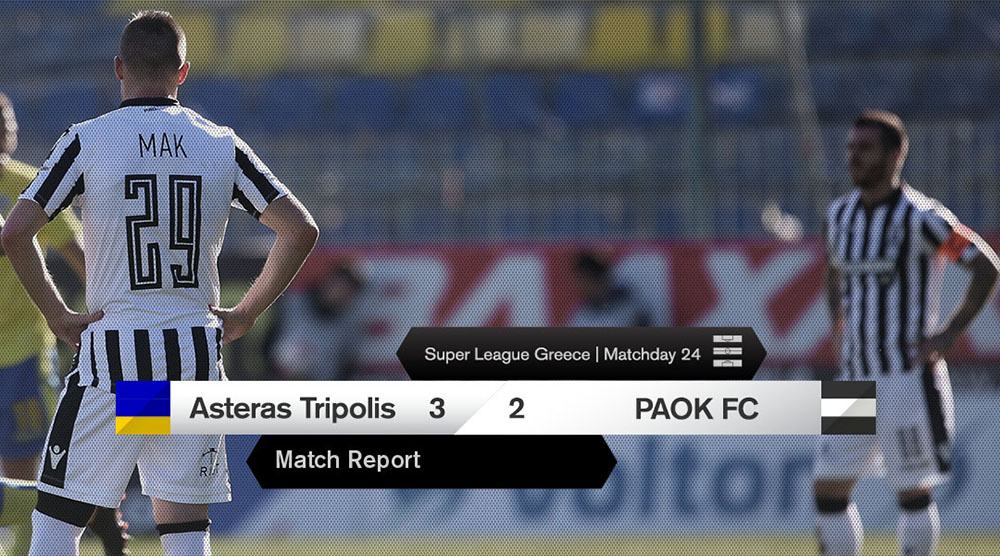 The home side scored with the first opportunity they got in each half, PAOK equalized twice and netted a third goal with Fernando Varela that was disallowed on the offside rule (although passive) at a decisive moment.
In the 18th minute, Asteras drew first blood with Kyriakopoulos who beat Alexandros Paschalakis with a low drive. PAOK reacted before the interval, Róbert Mak culminating his fine move with a perfect assist to Djalma Campos in the 37th minute.
The complexion of the encounter didn't change in the second half. PAOK had ball possession and pressured for the goal, but Asteras managed to net again with their first opportunity. In the 53rd minute, José Ángel Crespo and Manias went for Kyriakopoulos's cross, but the ball landed in Tonso's path who made it 2-1.
The home side then adopted a deep-lying game aiming to make the most of their counterattacking chances. PAOK were seeing more of the ball as Răzvan Lucescu introduced Diego Biseswar , Márcio Azevedo, Efthymis Koulouris on the pitch and encouraged even Varela to come forward.
The latter netted on the 78th minute, but referee Sidiropoulos and his assistant disallowed the goal due to Maurício's offside position. PAOK equalized in the 97th minute, Aleksandar Prijović converting the spot kick he earned from Iglesias. But the latter managed to have the last laugh, scoring in the last play of the encounter, to seal Asteras's 3-2 victory.
Line-ups:
Asteras Tripolis (Savvas Pantelidis): Athanasiadis, Bertos (46' Kotsiras), Giannoulis, Pasalidis, Τriantafyllopoulos, Iglesias, Munafo, Tsilianidis, Kyriakopoulos (67' Dudú), Tonso, Manias (84' Kaltsas).
PΑΟΚ ( Răzvan Lucescu ): Paschalakis , Varela , Crespo , Matos , Vieirinha , Shakhov (69' Azevedo), Maurício , Campos (83' Koulouris), Pelkas , Mak (57' Biseswar ), Prijović .