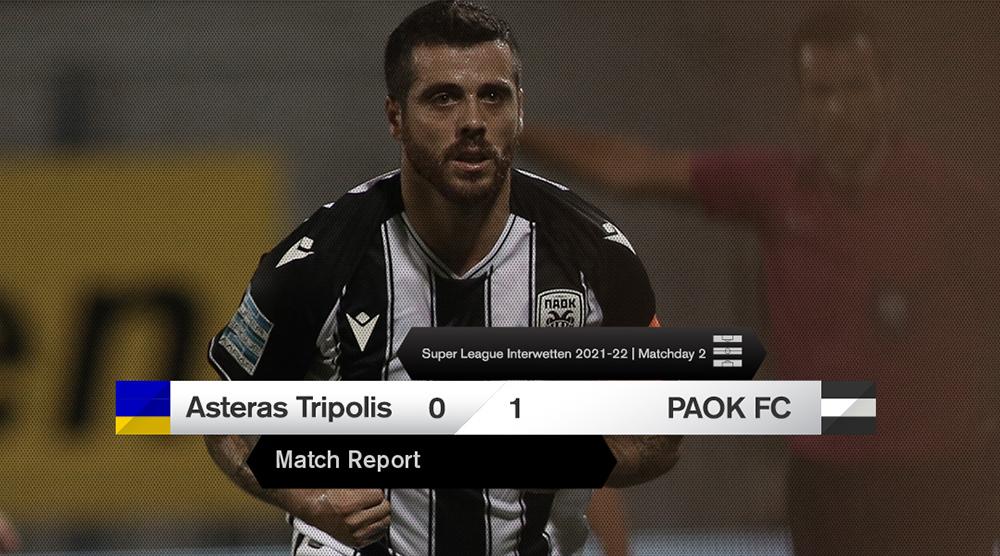 PAOK clinch away win in Tripolis
It was a given that PAOK would have a tough assignment at Asteras Tripolis. As logic says, so will every team which visits there this season. The Double-headed Eagle, however, showed strength, determination, desire, and endurance to come away with a great away win thanks to Andre Vieirinha's penalty.
It was a tough match, and one of few scoring chances. However, it was a 90 minutes full of intensity, passion, strong duels, and many mistakes from both teams. From the first minute it seemed that this time PAOK that would manage to stay focused and celebrate a three-point haul. And they did just that. The visitors produced a performance of substance, scored a goal, played solid at the back, and had goalkeeper Alexandros Paschalakis had an excellent day and kept the home side out.
Razvan Lucescu made several changes to the game against Gibraltar. Vieirinha , Varela and Michailidis took their places in the defense along with Sidcley and Paschalakis , while Schwab started in midfield beside Kurtic, while Swiderski replaced Akpom up front.
PAOK started strongly looked for a quick goal, with Mitrita and Murg both missing opportunities in the second minute. Asteras responded after 15 minutes and began to balance the game out a little, but without creating any real goal threat other than a header by Sito, before a phase of play on 27 minutes which was to decide the outcome of the game.
Biseswar was fouled inside the penalty area by Kanellopoulos, and after a VAR check, the match referee pointed to the penalty spot. Vieirinha stepped up to take the spot-kick and duly found the back of the net to celebrate his 250th appearance for PAOK with a goal.
The first half ended with a good save from Paschalakis from a Alvarez free-kick, as well as a few tough tackles and fouls which interupted the flow of the match.
In the second half neither side were on song, with both sets of players committing far too many mistakes, and the pace of the game dropped dramatically. As the end of the 90 minutes approached, the hosts began to commit more players forward in an effort to get an equalizer, but each time they tried to threaten, Paschalakis was there to stop them.
Initially he blocked Barrales' header, then a shot from Valiente. After that he also blocked a rebound after Barrales had hit the crossbar, while in added time he also saved from both Regis and Benito. At the other end of the pitch, PAOK found space behind the home defence but failed to add to their slender advantage.
In the end that didn't matter though, because the final whistle came soon enough and the Double-headed Eagle camp were able to jubilantly celebrate a vital away win in what is always a tough place to get a result.
Team lineups:
Asteras Tripolis: Papadopoulos. Carmona, Pichu, Castano, Alvarez (Tasoulis 81′), Valiente, Kanellopoulos (Santafe 66′), Regis, Sito (Gomes 66′), Capilla (Benito 82′), Barrales
PAOK: Paschalakis, Vieirinha (Rodrigo 52′), Varela, Michailidis, Sidcley, Schwab (Esiti 71′), Kurtic, Murg (Augusto 77′), Biseswar, Mitrita (A. Zivkovic 77′), Swiderski (Akpom 77').