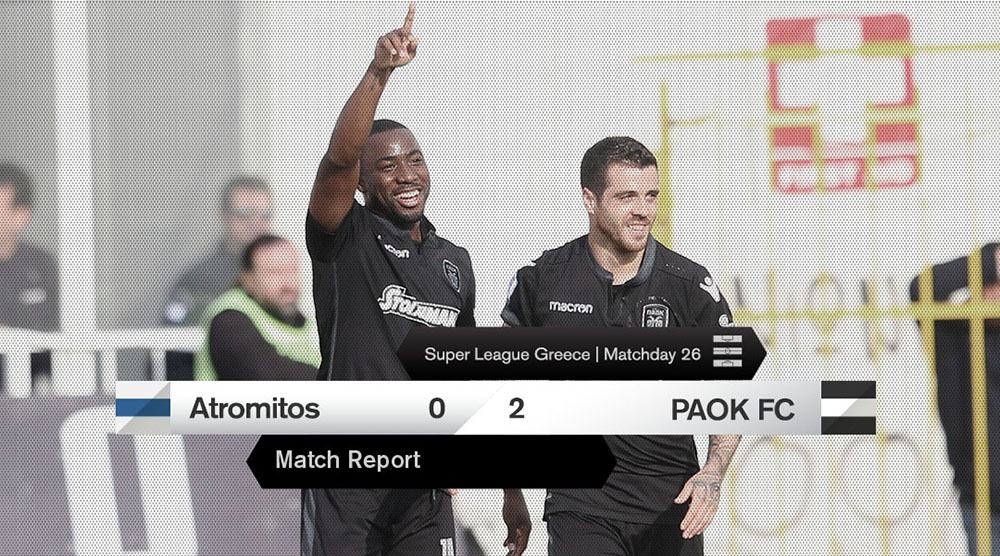 Răzvan Lucescu and his troops should be proud of the 58 points gathered on the pitch, despite having one match less under their belt. They need to provide answers until the end and that's the way to go about it.
The black-and-whites started strongly, while Atromitos responded well pressing high up the pitch and visiting Alexandros Paschalakis's box on occasion.
It took a move right out of PAOK's training routine to break the deadlock in the first half. Dimitris Pelkas , Adelino Vieirinha and Djalma Campos executed it to perfection and the latter lobbed the ball over Gianniotis to make it 0-1 in the 36th minute.
After the interval, Atromitos advanced their lines and pressured even more for an equalizer. They rarely bothered Lucescu's players though, who were prepared to handle every situation. They even extended their lead through a move by Pelkas who set up José Ángel Crespo in the 56th minute. For the last half hour, PAOK held on to their advantage without having to step on the throttle.
PAOK have every right to ridicule those who think themselves better –and that is something they will hold on to in the future. Even if they kick off next season with a two-point deduction and the rest from 0, nobody can avoid the field for ever…
Line-ups:
Atromitos: Gianniotis, Sakic, Kivrakidis, Karasalidis, Risvanis, Madson, Bušuladžić, Vasilakakis (76' Umbides), Diguiny, Bruno, Dauda (60' Kotsopoulos)
PΑΟΚ: Paschalakis , Malezas , Crespo , Matos , Vieirinha , Cañas , Maurício , Campos (84' Mak), Pelkas (78' El Kaddouri ), Limnios (64' Biseswar ), Prijović .