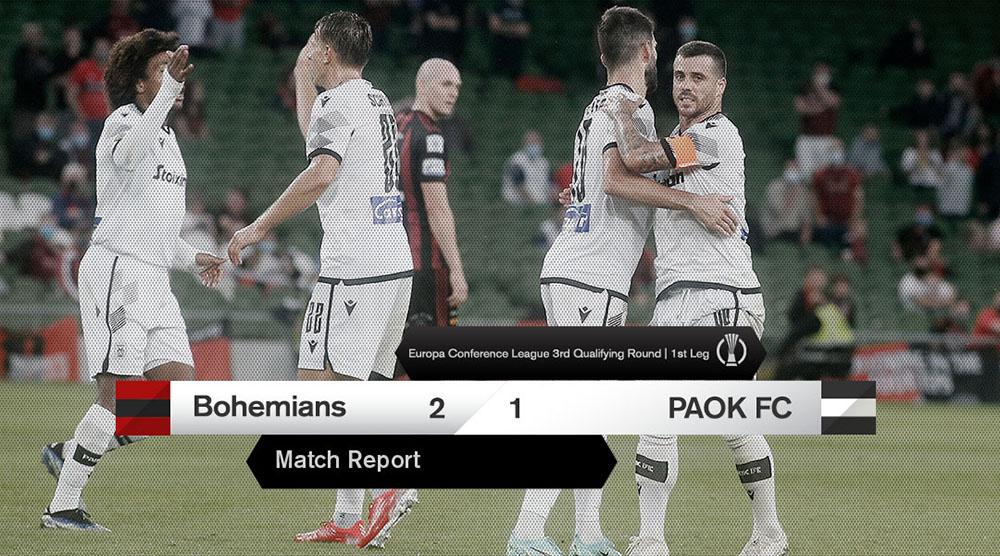 Back to the Toumba to overturn the tie
Razvan Lucescu had stressed over the past weeks about the difficulties of the matches in the summer qualifiers and the pitfalls they hide. PAOK managed to fall right into one on Tuesday, finding itself with their backs to the wall. Howebver, Nelson Oliveira's 77th-minute goal limited the damage somewhat, and it gives the Double-headed Eagle an opportunity of being in a better position to try and overturn the tie at the Toumba next Thursday (12.08).
The match at the Aviva Stadium started with PAOK trying to surprise their opponents early on, and wasting a great double opportunity in the second minute through Oliveira and A. Zivkovic.
The hosts gradually played their way into the game, however, and began to put pressure on Paschalakis' goal. After 23 minutes the breakthrough came when the home side managed to get themselves in front. Kelly surged down the right and crossed for the on-rushing Coote to beat Paschalakis with a first time shot and make it 1-0.
PAOK tried to respond, but missed two good opportunities through Kagawa and El Kaddouri. Bohemians then also had a chance to extend their lead, but Dawson could not convert his effort.
The second half started badly for PAOK. Kagawa and Esiti wasted a couple of good chances, and then the hosts extended their advantage with a fortunate effort from Coote in the 52nd minute which took a deflected and deceived Paschalakis.
Razvan Lucescu then made his moves from the bench and transformed the Double-headed Eagle's attacking lineup, Kurtic, Biseswar and Tzolis breathing new life into the team.
Vieirinha, Biseswar, Oliveira and Tzolis all failed to find the target though, with Bohemians goalkeeper Talbot proving a reliable presence when his team needed him, except in the 77th minute when PAOK finally found a way through.
Schwab sent over an excellent cross from the left, and with an impeccable header, Oliveira scored his first competitive goal for PAOK to make it it 2-1.
Indeed, the Portuguese forward could have scored again two minutes later, but Talbot saved his effort, as he also did in the first minute of added time from Swiderski's powerful shot.
The final 2-1 scoreline gives the Irish team a delicate lead, but PAOK will look to the power of the Toumba and having their supporters behind them to help the team turn the tie around.
Team lineups:
Bohemians (Keith Long): Talbot, Lyons, Breslin, Cornwall, C. Kelly, Coote (87′ Ward), Burt, J. Kelly, Buckley, Tierney, Divoy (76′ Livingstone).
PAOK (Razvan Lutsescu): Paschalakis, Rodrigo, Varela, Michailidis, Vieirinha, Esiti (63′ Kurtic), Schwab, A. Zivkovic (69′ Murg), Kagawa (63′ Biseswar), El Kaddouri (63′ Tzolis), Oliveira.