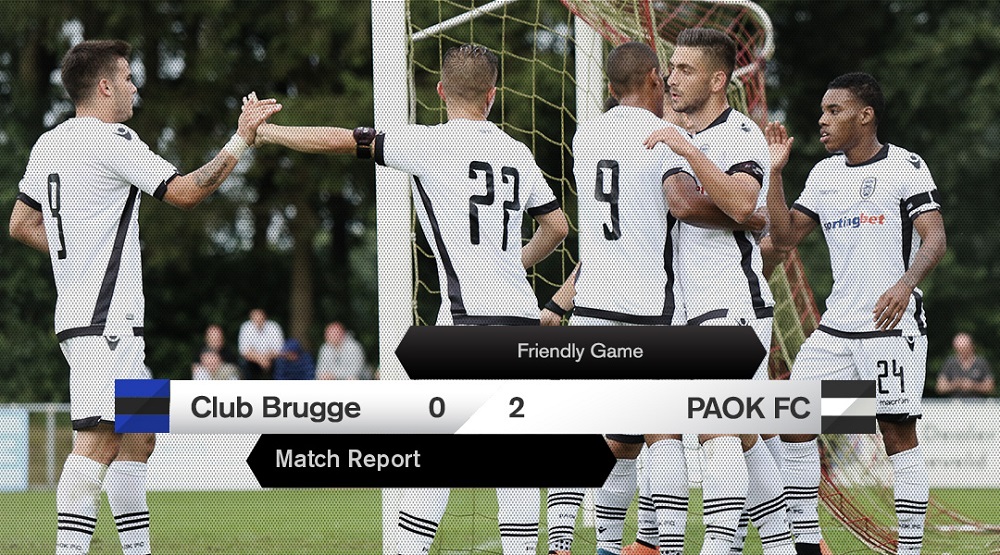 First tough test is successful
This time around, PAOK faced a very tough opponent. With a fine display for the most part of the encounter, they prevailed 2-0 over Belgian champions Club Brugge KV at Garderen.
It was hard to draw conclusions after the encounter against Silvolde SC. Therefore everybody was eagerly awaiting for the demanding friendly against Club Brugge KV. The Belgians are kicking off their league in 20 days and are preparing for the UEFA Champions League group stage. And the friendly encounter against them proved that there is something good going on in the Netherlands.
Vladan Ivić was faithful to his 4-3-3 formation and included Panagiotis Glykos, Giorgos Tzavellas, Alexandros Tziolis and Djalma Campos in his line-up, players who hadn't participated in the previous match. PAOK started strongly and ran a lot, applying pressure and dictating pace. In the 8th minute, Facundo Pereyra lost a huge chance to score the opener after a defensive slip-up of the Belgians. Four minutes later, Campos set up Giannis Mystakidis in the box, but the young winger's finish left much to be desired.
Shortly afterwards, Club Brugge KV had a shot on woodwork, but PAOK remained on the driver's seat and came close to scoring with Marin Leovac and Campos. The Angolan player wasted PAOK's biggest chance in the first half, when his shot rattled the crossbar in the 27th minute. Club Brugge KV then gained some space on the pitch, but the "Double-Headed Eagle" defended properly and had Glykos on alert whenever necessary.
Ivić chose not to change his whole line-up after the interval –instead he made six substitutions. The pace dropped. Campos had one more shot on post from an acute angle. As for Markos Vellidis, he denied Claudemir. Efthymis Koulouris broke the deadlock, after a textbook counterattack. Dimitris Giannoulis combined with Garry Rodrigues, the latter teed-up Koulouris whose cool shot beat the rival goalkeeper.
Ivić's troops stepped on the throttle after their opener and looked to extend their lead. Rodrigues had a shot just wide in the 73rd minute and Dimitris Pelkas imitated him five minutes later. However, in the 80th minute, the young attacking midfielder scored a stunning goal, after an equally exquisite move in the box and despite the pressing of three opponents.
Yevhen Shakhov, Tasos Dimitriadis, Diego Biseswar, Dimitris Konstantinidis, Marios Siampanis, Nikos Melissas and Dimitris Chatziisaias didn't play and followed their own training program.
Next up for PAOK, the friendly encounter against FC Steaua București on Wednesday 13 July (20:00).
PAOK line-up: Glykos (46′ Vellidis), Μatos (46′ Κitsiou), Pouggouras (46′ Μalezas), Τzavellas (60′ Crespo), Leovac (60′ Giannoulis), Cimirot (60′ Κorovesis), Τziolis (46′ Charisis), Pereyra (46′ Pelkas), Μystakidis (46′ Rodrigues), Campos (60′ Jairo), Αthanasiadis (60′ Κoulouris).