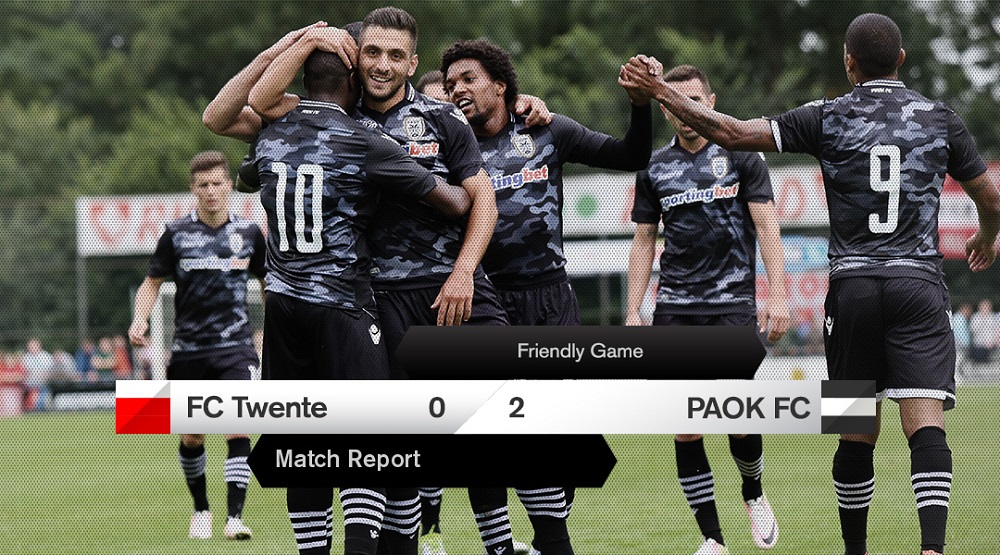 Pluralism and serious approach
PAOK recorded a friendly 2-0 victory with a convincing display against FC Twente.
After the crazy match against Steaua with the uncontrollable pace, goal galore and defeat, PAOK needed to prove on Saturday that they can take control of their encounters, secure their box and be creative upfront.
They more or less did all that against FC Twente. They were threatened only once in the first half by the Dutch, they combined in the flanks, controlled the match at will, stepped on the throttle when they encountered spaces and scored with fine collective moves. All of the above, by applying their plan and common logic.
In the first half, PAOK has a shot on woodwork with Giorgos Tzavellas, a missed one-on-one attempt of José Ángel Crespo, some long-range shots by Djalma Campos and Garry Rodrigues, but no goals.
That changed in the second half! Diego Biseswar came on the pitch to feature as a clear-cut No 10 (contrary to the first half played by PAOK without a playmaker) and he provided pace to the "Double-Headed Eagle's" attacking moves in the last third. Campos wasted three fine chances created thanks to his speed and shot-making, there were crosses coming from the flanks, but the deadlock was broken in the later stages of the encounter.
Yevhen Shakhov made the most of the fine combination between Biseswar and Léo Matos and teed-up by the latter he gave PAOK the lead with a scissor kick. Then Biseswar picked up Campos who had moved intelligently between the rival centre-backs for a fine finish to make it 2-0.
Generally speaking, it's obvious that Vladan Ivić is working on a team that can adopt to several playing styles during an encounter. They can apply pressure up high and wait. They can deploy from the flanks and the middle as well, they can score from set pieces, organized attacks or counters. All that, of course, needs to be taken and applied in the highest level ahead of PAOK's European ties against AFC Ajax. However the team's progress is satisfactory and there is only the prova generale against Apollon Limassol remaining before the hour of truth!
PAOK line-up: Glykos, Μatos (81′ Κitsiou), Tzavellas, Crespo (70′ Μalezas), Leovac, Charisis (46′ Biseswar), Cimirot (82′ Κorovesis), Shakhov (81′ Τziolis), Rodrigues (66′ Jairo), Campos, Αthanasiadis (70′ Κoulouris)