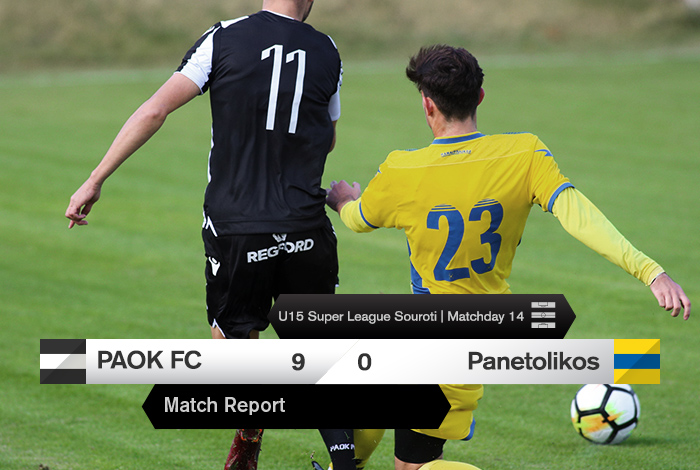 U15s annihilate Panetolikos 9-0
PAOK kicked off their goals galore with Koutsias in the 16th minute, on an assist by Spyridopoulos. Smyrlis took over the scoring role in the 31st minute set up by Koutsias. An individual effort by Kedikoglou sealed the first half with the "Double-Headed Eagle's" third goal in the 38th minute.
PAOK didn't slow down after the interval. Koutsias made it 4-0 in the 50th minute on an assist by Koulouris. Rumantsiev extended his team's lead three minutes later, teed up by Koutsias and Kedikoglou scored PAOK's sixth goal in the 63rd minute set up by Bampouras. There were more to come… Symeonidis made it 7-0 collecting the ball from Pitilakos in the 65th minute, while Koutsias completed his hat-trick six minutes later assisted by Rumiantsev. Scorer turned to provider in the 74th minute, as Koutsias served the assist and Rumantsiev sealed the 9-0 victory.
PAOK U15: Monastirlis, Κoutsidis, Ζilos (59' Τoskos), Κoulouris (59' Kamaros), Cela, Τsikos (46' Rumiantsev), Pitilakos, Spyridopoulos (55' Symeonidis), Κedikoglou, Smyrlis (52' Bampouras), Κoutsias.