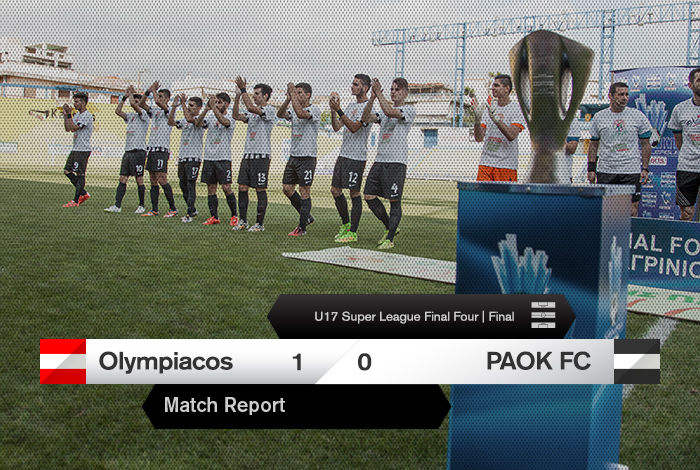 PAOK U17s lose their final
The "Double-Headed Eagle" were unlucky to lose their semi-final scorer Chatzidimpas on injury in the first minute of the encounter and had to revise all their attacking plans.
Olympiacos took the initiative in the game, however PAOK were well organised behind the ball and would not allow their rivals to get too creative.
In the second half, PAOK conceded space to Olympiacos as fatigue kicked in and opted for a counterattacking game, but their passing was off. The final was heading towards extra-time, but a cracking shot by Christou in the 82nd minute broke the deadlock and handed Olympiacos the league title.
PΑΟΚ: Siampanis, Charalampidis (65' Papathanasiou), Liaptsis, Dimitriou (80' Paspalas), Aidonidis, Mattheou, Miskovic, Kyrillidis, Argyriou, Chatzidimpas (14' Efthymiou, 85' Koutousis), Konstantinou.
Olympiacos: Gavalas, Betsas, Νikolaou, Retsos, Fouasis, Τzoumakis (54' Τsilikis), Christou, Lamprou (93' Thymianos), Κipouros (80' Xenitidis), Varkas (90' Koltsidas), Kirtzialidis (54' Kougios)