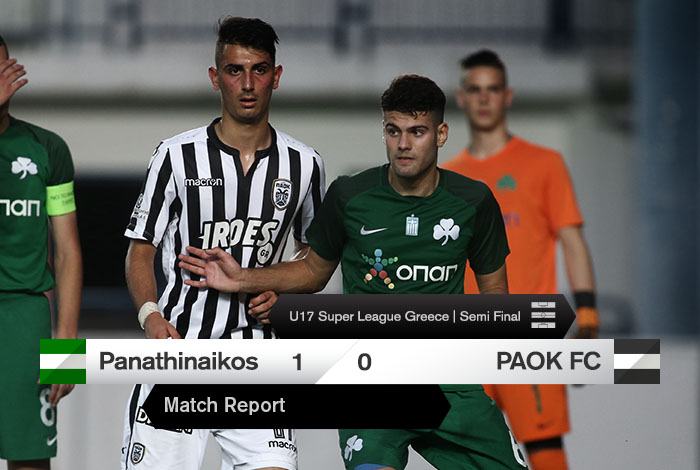 PAOK U17s defeated by Panathinaikos on points
Panathinaikos started strongly and got control of the encounter. The "Double-Headed Eagle", however, defended well and didn't allow opportunities created in Talichmanidis's box.
Despite the intensity and passion, players of both sides were stressed and it was evident by their numerous errors in midfield and bad pass decisions. They didn't break the deadlock nor created big chances to score before the interval.
In the second half, Panathinaikos made their domination count and took the lead in the 57th minute with a header by Mavroudis, following a cross at the back of PAOK's defence. Alexis Alexiadis's reaction was immediate. The coach of the "Double-Headed Eagle" shuffled his attacking line, urged his troops to move higher up the pitch and the outlook of the encounter changed.
PAOK got in control of proceedings for the last half hour. They pressured the "Greens", but couldn't make creative capital out of the situation. They had three big opportunities to equalize. Panathinaikos's goalkeeper denied Sapountzis, Grosdis missed the target from close up, while Moutzouris prevailed in the air but his header flew away at stoppage time.
The Greens celebrated victory and qualified to the Super League Souroti U17 final. PAOK, on the other hand, completed their journey after a season full of valuable experience for these young players.
PAOK U17 line-up:
Talichmanidis, Grosdis, Moutzouris, Voutsas, Atmatzidis (68′ Κaloutsikidis), Κaramperis (75′ Sapountzis), Vrakas (64′ Τachatos), Theodoridis, Pournaras (64′ Tsiakalos), Koreas, Spartiatis (64′ Aventisian)