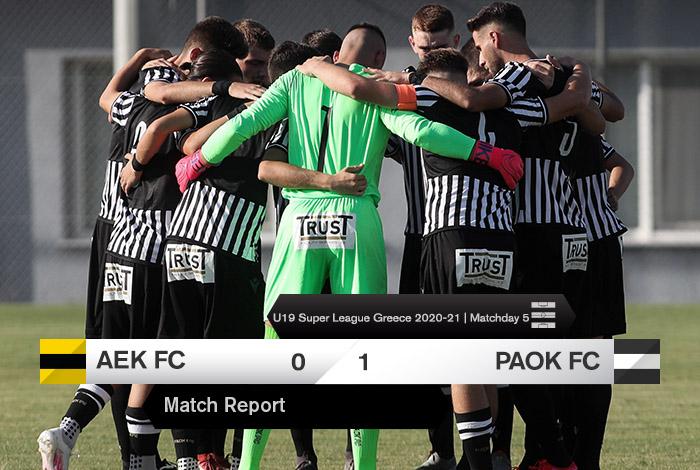 Under-19s escape from Athens with a win
A blood-and-thunder derby clash between PAOK's Under-19 side and AEK ended with the Double-headed Eagle leaving Athens with a vital Super League win.
Pablo Garcia's and Miroslav Schnauzner's team started with  Balomenos  between the posts, Aventisian and Tsopouroglou in the full-back positions, and a central defensive pairing of Panagiotou and Manolioudis. Grosdis, Koutentakis and Giaxis were selected as the midfield trio, with Koutsias, Vrakas and Gorteziani in the forward positions.
The PAOK coaching duo seemed to have their set-up exactly right for this match and both teams were evenly matched.
PAOK had two good opportunities to open the scoring through Gorteziani and Koutsia, while in the 39th minute  Balomenos  made an excellent save to deny AEK.
In the second half the pattern of play did not change. Both teams were cancelling each other out, but it was AEK who came on a little more stronger and missed several opportunities, while PAOK 'keeper  Balomenos  was equal to whatever the home side threw at him.
Just when it seemed that the match would end in a goalless stalemate, in the 77th minute Gorteziani put the home keeper under pressure, stole the ball and was then fouled, with the referee pointing to the spot. The PAOK forward picked himself up and slotted home the spot-kick to give the Double-headed Eagle the victory.
PAOK line-up:
Balomenos, Panagiotou, Manolioudis, Tsopouroglou, Aventisian, Giaxis, Kountentakis, Grosdos (82′ Kitsakis), Vrakas (65′ Panidis), Koutsias (72′ Konstantelias), Gorteziani (82′ Pipiliaris).