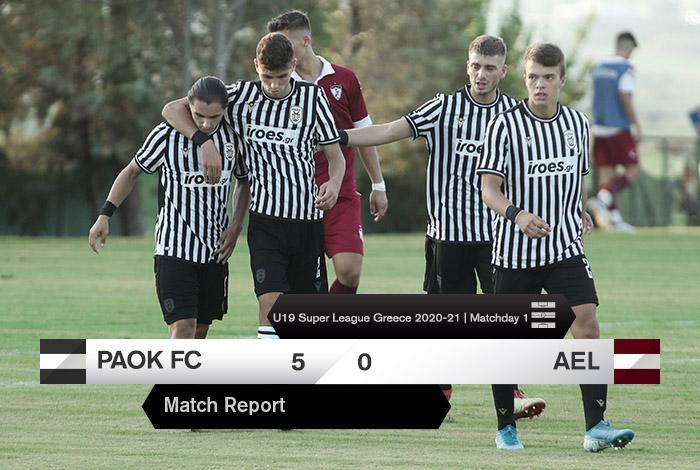 Impressive start by the Under-19s
PAOK's Under-19 team made an exceptional start to the Super League season with a rampant 5-0 win over Larissa in Souroti.
Pablo Garcia and Miroslav Sznaucer's team may have seen many changes in personnel over the summer, but they showed that they are ready to continue the club's unstoppable run of form this season as they look to retain their league title.
In the first half the home side were actually a little anxious and as a result did not managed to create a great deal of threatening moments on the opposition goal.
But in the second half it was a different story. The introduction of Konstantelia at the half-time interval galvanized the team's attacking play. The young forward opened the scoring after 50 minutes, before Aventisian made it 2-0 on 65 minutes via the penalty spot after he himself had won the spot-kick.
In the 75th minute Gorteziani made it 3-0 from a Konstantelia assist, while two minutes later the roles were reversed. Then, in the 86th minute, Gorteziani made it 5-0.
PAOK's lineup:
Balomenos, Panagiotou (68' Koulierakis), Manolouidis,Tachatos, Aventisian, Giaxis, Grosdis, Tsopouroglou (61'Spirakos), Panidis, Koulouris (46' Konstantelias), Gorteziani (86' Kountentakis).