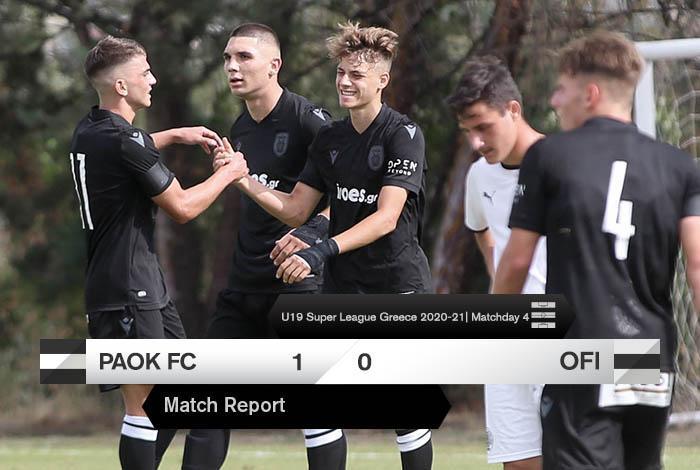 Under-19s grind out hard-fought victory
A solitary goal from Konstantelias in the first half was jut about enough to give the PAOK Under-19 side another Super League win in a tough match against a determined and well-organised OFI.
Pablo Garcia's and Miroslav Schnauzner's players found themselves up against a team in exceptional form, with the opposition producing an impressive pressing game all over the pitch.
From the kick-off, PAOK enjoyed the lion's share of possession and controlled the tempo of the game, but despite that they failed to fashion a great deal of chances. After 33 minutes Vrakas fired in a shot from outside the penalty area, but the OFI goalkeeper parried it away. The ball fell kindly for Konstantelias, though, and he opened the score to take PAOK into the half-time interval 1-0 up.
In the second half the home side upped their game, and pushed PAOK back into their own half, while at the same time also managing to create chances. There were still a couple of decent chances for PAOK to add to the scoreline, but Konstantelias failed to convert a Gorteziani cross on 60 minutes, while at the other end OFI missed a one-on-one chance in added time with PAOK goalkeeper Balomenos showing fine form to keep a clean sheet for his team.
PAOK line-up:
Balomenos, Panagiotou, Manolioudis, Tachatos (72′ Koulierakis), Aventisian, Giaxis, Kountentakis, Vrakas (60′ Koulouris), Tsopouroglou, Konstantelias (68′ Smyrlis), Gorteziani