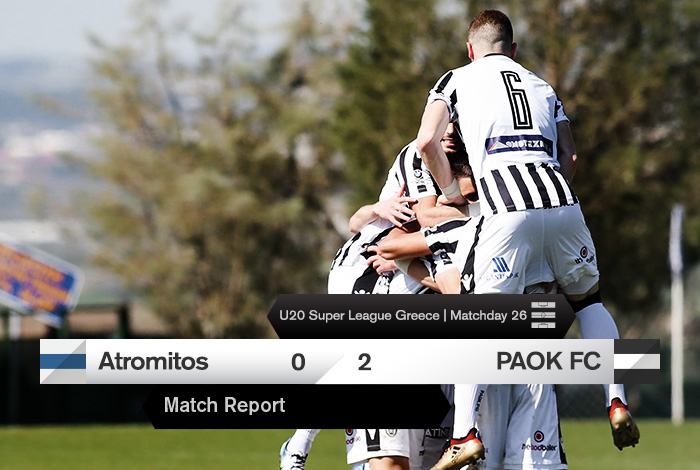 Four minutes were enough for the U20s
The home side started strongly, but failed to take PAOK by surprise. The visitors took the reins of the match after the 10th minute and started pressuring for the lead.
They scored the opener in the 26th minute. Lyratzis moved swiftly from the right and passed to Chatzistravos, whose shot was denied by the rival goalkeeper. Gargalatzidis took the rebound though and finished in style, giving PAOK the lead.
Four minutes later, Pablo García's troops sealed their victory. This time, play initiated on the left flank, Tzovaras entering the box and feeding Markovski for the simplest of tap-ins.
Gargalatzidis and Markovski missed two great opportunities to extend PAOK's lead in the first half. After the interval, the game pace dropped. The "Double-Headed Eagle" remained in command and didn't allow Atromitos to become threatening for their defence.
That is how PAOK took revenge for their home defeat by the Peristeri outfit in the first round of the season. Pablo García was also happy to see Aidonidis back in action after being on the sidelines with injury for quite a long time.
PAOK U20: Siampanis, Lyratzis, Τsaousis, Diamantis, Μichailidis, Τsiggaras, Balogiannis, Chatzistravos (85' Aidonidis), Gargalatzidis (60' Doumtsis), Markovski (80' Ch.Papadopoulos), Τzovaras