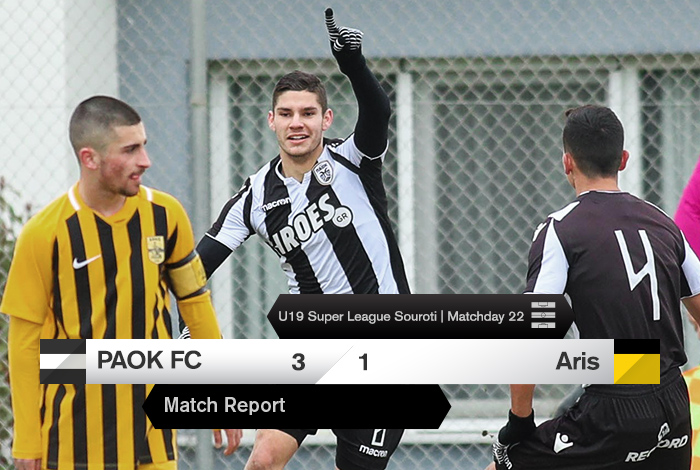 Comfortable win for the U19s
It proved to be a hard-fought encounter against the only side who have managed to snatch points off them this season. There was also fatigue from PAOK's mid-week battle against Tottenham for the UEFA Youth League. They proved however they are the Greek league's top side.
As usual, PAOK hit the ground running and fired repeatedly against Aris's goal right from the start. The first part proved an one-sided affair. The "Double-Headed Eagle" took the lead with an excellent direct free-kick by Balogiannis from an angle.
Tzovaras then was denied by the post. His side wasted many more opportunities for a larger lead, but the 1-0 scoreline remained unchanged until the interval.
In the second half, the match pace dropped considerably. Aris defended in numbers, their main aim being not conceding more goals rather than score one of their own.
The "Double-Headed Eagle" sealed their victory with two goals in one minute! Pournaras picked up Chatzistravos's pass in the 76th minute to make it 2-0. Seconds later, Doumtsis knocked in a pin-point cross and Tzovaras met the ball with a header to score PAOK's third goal.
The visitors could only pull one back in the 88th minute for a 3-1 lead. That proved the final result, as Tsiggaras's impressive belter was denied by the woodwork.
PAOK U19: Papadopoulos, Lyratzis, Τsaousis, Μichailidis, Diamantis, Τsiggaras, Balogiannis, Gaitanidis (64' Doumtsis), Chatzistravos, Gargalatzidis (64' Pournaras), Τzovaras (78' Panidis).