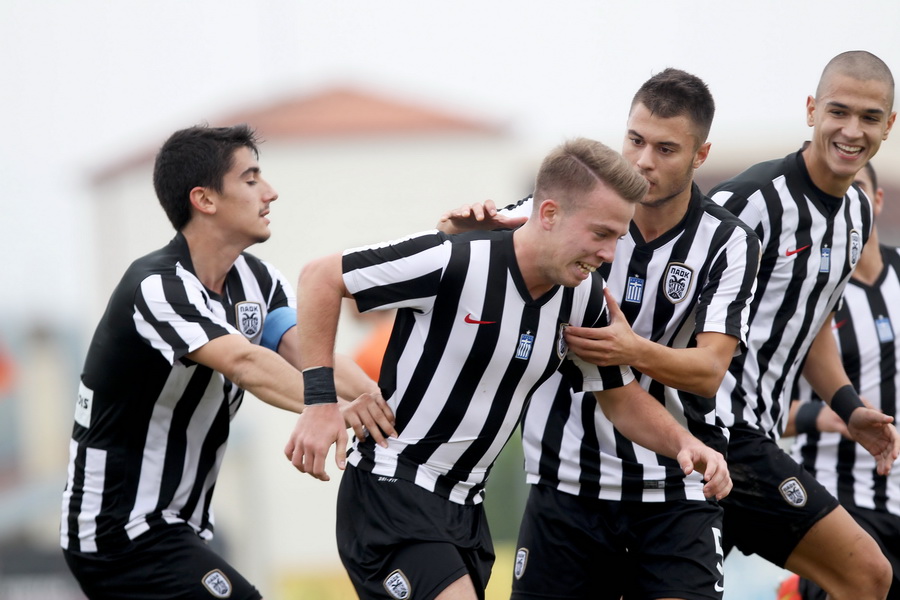 PAOK U20s turned their fate around!
PAOK U20s edged out a 3-2 victory in a thrilling encounter against Panthrakikos at Mesimerio Ground. The three points kept Vladan Ivić's brave troops fifth in the standings.
The match started with the PAOK side applying early pressure. After 17 minutes of play, Pozoglou netted the opener. Until the interval, the "Double-Headed Eagle" looked in control, although Panthrakikos were working their way towards PAOK's box. In the 35th minute, Tsolakidis sustained an injury and was substituted off, Kakko taking his place on the pitch. Five minutes later Lytskas equalized for the visitors.
The match suddenly sprang into life in the last twenty minutes. In his quest to prevent a one-on-one with Lytskas, Koutoglidis brought him down outside his area and was sent off. Panthrakikos made the most of their numerical superiority and got the lead in the 72nd minute. Despite playing with 10, PAOK continued pressing high up the pitch and got their reward three minutes later. Pozoglou scored the equalizer with a direct free kick in the 75th minute and Pouggouras' strike one minute later allowed PAOK to put their nose in front. Last season's champions held on to their victory and celebrated it wildly.
Line-ups:
PΑΟΚ: Koutoglidis, Topalidis, Pouggouras, Tselepidis, Vasaitis, Toumanidis (60′ Tsiampazis), Tsolakidis (35′ Kakko), Ktistopoulos (68′ Soilemezoglou), Pozoglou, Kushta.
Panthrakikos: Kechagias, Koutrias, Nougziaris, Mitrousis, Fragoulis, Psaltis, Farmakis, Goutzidis, Paparounas, Lytskas, Dimitriadis.