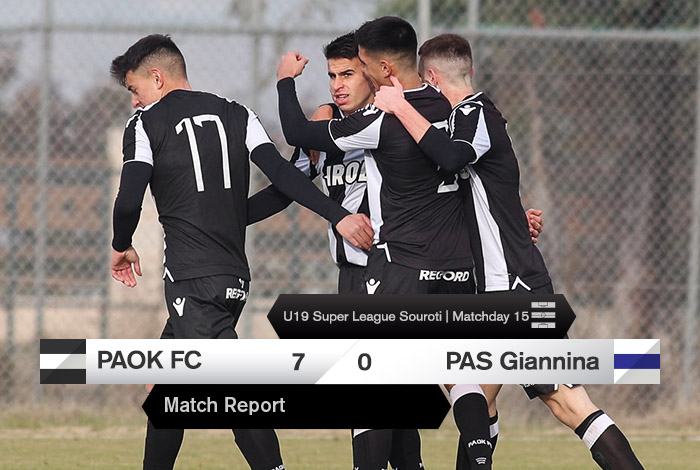 PAOK U19s thrashed PAS Giannina
PAOK kicked off the encounter with a no-nonsense attitude and prevailed throughout the 90 minutes, without allowing their rivals more than two shots altogether.
The goal galore started in the 6th minute with a fine cross by Gaitanidis that Panidis dispatched home from close up for the lead. Gaitanidis turned to scorer in the 38th minute with a powerful shot from outside the box. Two minutes later, Chatzistravos made it 3-0, teed by Balogiannis and lobbing the rival goalkeeper.
After the interval, in the 49th minute, Chatzistravos intercepted the ball and coolly scored PAOK's fourth. In the 73rd minute, Panidis extended his side's lead with a powerful shot. Three minutes later, Tachatos crossed from the right, Chatzistravos let the ball roll towards Balogiannis whose belter made it 6-0. Panidis completed his hat-trick and sealed PAOK's 7-0 victory in the 80th minute with a header, set up by Chatzistravos.
PAOK U19: Papadopoulos, Lyratzis (65' Tachatos), Τsaousis, Diamantis, Μichailidis, Τsiggaras, Balogiannis, Chatzistravos, Doumtsis (46' Salamouras), Gaitanidis (46' Pournaras), Panidis.