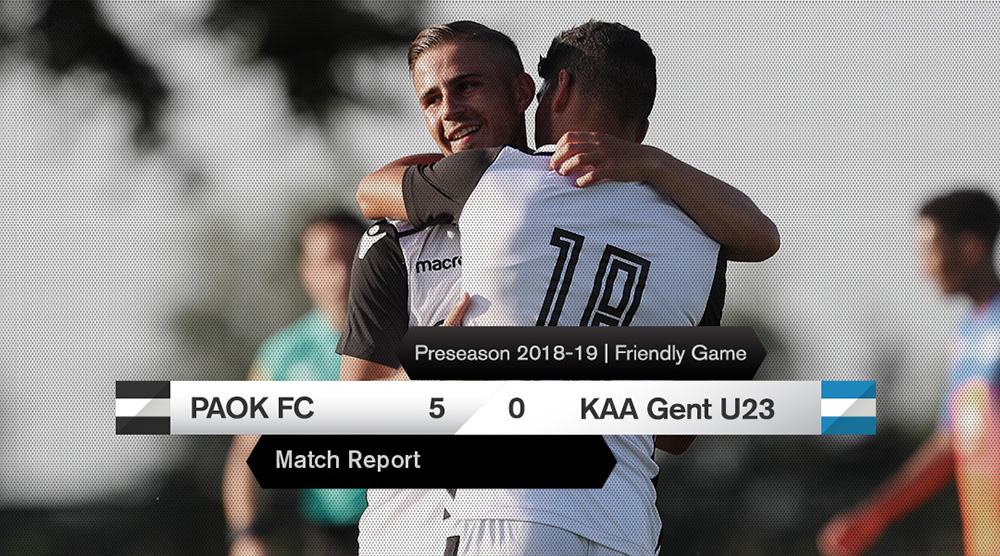 It was PAOK's first unofficial game of the season. The preparation friendly against KAA Ghent U23s (5-0 for the "Double-Headed Eagle") gave Lucescu's players the opportunity to stretch their legs after their intense training. As for the coaching staff, they were able to see on the pitch what they have been working on since the start of preseason.
Răzvan Lucescu fielded two different line-ups, one for each half, wanting to hand time on the pitch to all his available players. Léo Jabá made his unofficial debut for the "Double-Headed Eagle". André Vieirinha and Thibault Moulin didn't get to play as they are nursing injuries, while Dorian Lévêque also sat out due to hamstring pains during warm-up. That is why young Konstantinos Balogiannis featured as left-back for the whole 90 minutes.
The two teams got to a tentative start, PAOK claiming possession and having the initiative, but struggling to produce goal attempts apart from some random shots. As the first half was drawing to a close, they managed to break the deadlock with a fine combination between Diego Biseswar, Omar El Kaddouri and Maurício, the latter scoring with a swift finish.
The second-half line-up was more aggressive from minute one and scored four times. Lazaros Lamprou , Dimitris Pelkas, Giannis Mystakidis and Dimitris Limnios formed the attacking line and netted a goal each.
PAOK line-ups:
1st half: Paschalakis , Μatos, Mihojević, Crespo , Balogiannis, Maurício, Cañas, El Kaddouri , Biseswar, Jabá, Koulouris
2nd half: Siampanis, Balogiannis, Κitsiou, Varela , Μalezas, Shakhov, Charisis, Pelkas, Limnios, Μystakidis, Lamprou