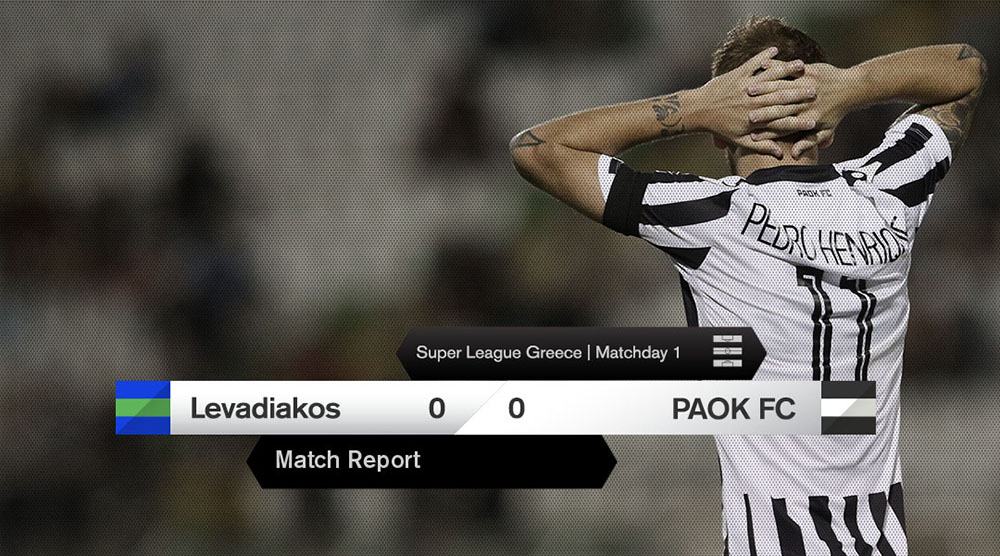 In the first half, the "Double-Headed Eagle" left much to be desired. They lacked authority and rarely bothered the opposite defence. The home side tried to pressure high up the pitch and were successful in the opening ten minutes, carving out two opportunities to score the opener.
PAOK leveled play, increased ball possession, but couldn't score as José Anigo's players closed all spaces in front of their goal. The coach of Levadiakos provoked  Răzvan Lucescu , who was protesting for a challenge on Aleksandar Prijović , and both men were sent off by referee Stavros Mantalos in the 30th minute.
The tactician of PAOK shuffled his pack after the interval and the team's outlook improved regarding passing, but the team lacked creativity in the opposite box. Pedro Henrique wasted a huge chance to score, as Zaradoukas cleared the ball before it crossed the line.
The hosts went close to a goal of their own through Youssouf and Giakoumakis, but  Rodrigo Rey  cleared danger and kept a clean sheet.
The final result is far from satisfying for PAOK, who deserved something more after 13 attempts on goal and 68% ball possession.
Line-ups:
Levadiakos: Epassy, Tripotseris, Mitropoulos, Zaradoukas (86′ Amaral), Mendy, Adilehou, Niasse, Brandão (82′ Toni Silva), Tsabouris, Youssouf (87′ Kapsaskis), Giakoumakis.
PΑΟΚ:  Rey ,  Malezas ,  Varela ,  Crespo , Leovac, Cimirot, Kaçe (57′  Shakhov ),  Limnios  (62′  Biseswar ), Henrique (67′ Campos), Mak,  Prijović