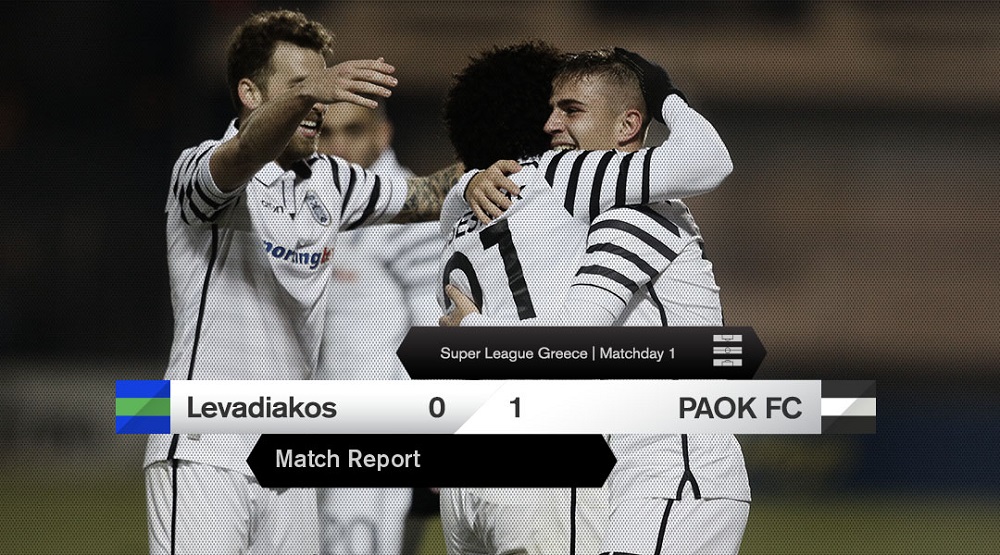 Pelkas with the golden coin
PAOK kicked off 2017 on the right foot, recording a 1-0 victory in Livadia for matchday 1 of the Super League and seeming totally unfazed by the holiday break.
The "Two-Headed Eagle" put on a commanding performance, added yet another three-pointer to their tally and initiated ideally a very tough streak of encounters.
They took control from minute one in Livadia, searching for an early goal. Their first attempt on goal was recorded in the 9th minute, when Αthanasiadis's shot was blocked by a defender and goalkeeper Namaşco got hold of the ball.
Biseswar's powerful finish went just wide in the 15th minute. The "Two-Headed Eagle" were firing on all cylinders and their ball possession reached 70% in the first 20 minutes of the encounter.
They camped around Levadiakos's box and left no doubt of their superiority. In the 31st minute, Μystakidis got really close to scoring the opener, but his effort was saved initially by the far post and then was blocked by Milhazes.
Two minutes later, the young player of PAOK was denied by Namaşco. In a rare effort of Levadiakos to take the lead, Glykos made an impressive save to prevent Mantzios from scoring in the 45th minute. The two sides hit the dressing rooms for the interval, with PAOK prevailing 10-3 in the attempts-on-goal count and the 0-0 on the scoreboard far from reflecting the complexion of the encounter.
In the 63rd minute, substitute Κoulouris wasted a great chance to break the deadlock. Six minutes later, his powerful save was saved by Namaşco, who also intervened to keep away the close-range effort of Campos on the rebound. Biseswar's drive in the 78th minute went just wide.
Matos was denied by the post in the 81st minute, however PAOK got their reward three minutes later. Pelkas broke the deadlock with a header handing the "Two-Headed Eagle" a much-deserved victory.
Line-ups:
Levadiakos: Namaşco, Moulopoulos, Ouon, Τripotseris, Milhazes, Coulibaly, Μendy, Karaboué (78' Vasiliou), Karachalios (70' Mangas), Giakoumakis (90' Kapsaskis), Mantzios.
PΑΟΚ: Glykos, Μatos, Crespo, Varela, Leovac, Cimirot (90' Μalezas), Cañas, Biseswar, Campos, Μystakidis (71' Pelkas), Αthanasiadis (61' Κoulouris).