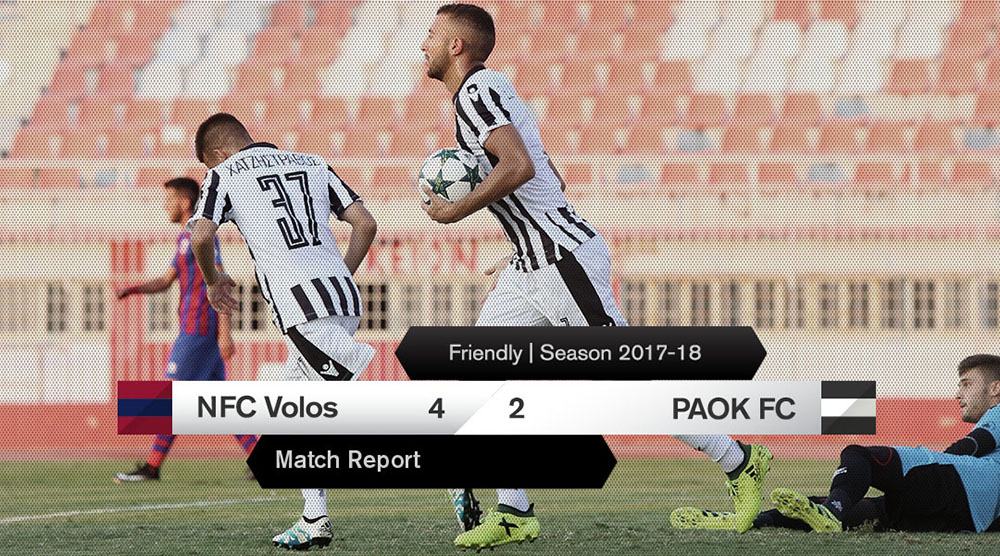 PAOK proved they are in need of considerable work in various aspects of their game, in order to reach the performance level their coach desires.
In the first half, the "Double-Headed Eagle" faced problems in their transition game and conceded three goals from their opponents' counters. The home side took the lead with a backheel flick of Iliopoulos in the 11th minute and made it 2-0 with a spot kick by Pitu García.
In the 20th minute, PAOK reduced distances with a neat finish by  Omar El Kaddouri , who collected Diego Biseswar´s cross. In his unofficial debut, the Moroccan player was very lively, especially in the first half.
NFC Volos managed to restore their two-goal lead before the interval, through a close-range shot by Mantzis in the 38th minute.
In the second half, PAOK were in control of proceedings for the most part in an effort to score. In the 77th minute, Alexandros Gargalatzidis received an impeccable through-ball by  Dimitris Pelkas  and made it 3-2. However the home side scored a fourth one in the late stages of the encounter through Demirtzoglou.
Gate income of the encounter will be given to local institutions, like the orphanage of the city.
PAOK line-up:  Paschalakis  (46′  Siampanis ), Leovac (46′  Lévêque ), Konstantinidis,  Malezas  (46′  Varela ), Pouggouras, Cañas ,  Biseswar ,  El Kaddouri  (68′ Dimitriadis), Chatzistravos (46′ Kaçe),  Pelkas , Stathopoulos (57′ Gargalatzidis).