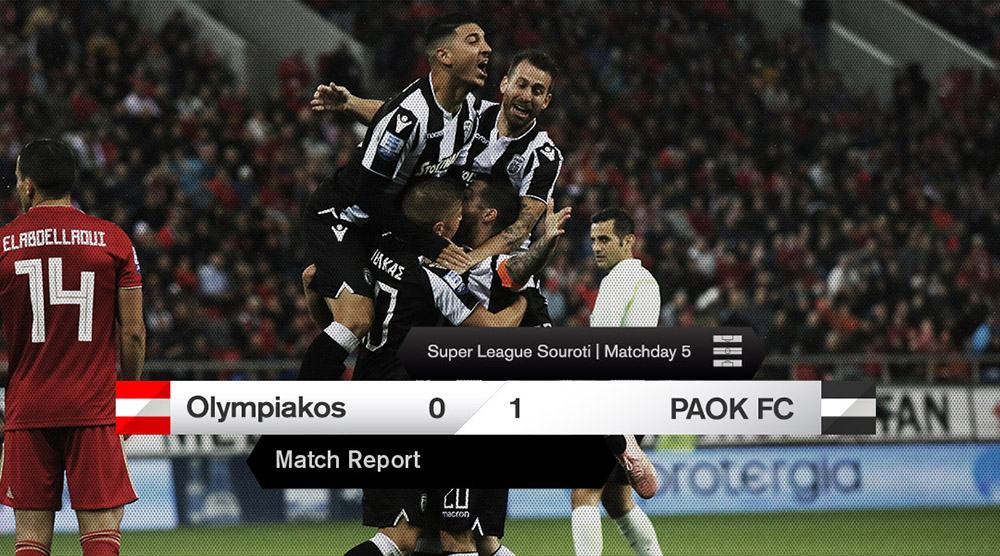 Football is a fair sport. Hard work gets rewarded sooner or later. That is what happened on the pitch of "Karaiskakis" Stadium. PAOK played as they should in order to score one goal more than their rivals and record an important victory. The "Double-Headed Eagle" players didn't fall in the trap to seek revenge for what happened last season. They were clear-minded and displayed their refuse-to-lose mentality. Their "professional" win allows them to lead the standings.
Olympiakos started into the encounter with all systems go, launching numerous attacks on PAOK's goal, but were kept at bay by the visitors' excellent defensive line and the outstanding performance of Alexandros Paschalakis .
The "Double-Headed Eagle" goalkeeper got busy with just two minutes on the clock, saving a header from point blank. The hosts were in control until the 15th minute, but afterwards the players of Răzvan Lucescu gained possession and dominated. They wasted two good opportunities for an opener through Diego Biseswar and Dimitris Pelkas .
The first half ended scoreless, as Olympiakos players tried their luck through set pieces but to no avail.
The deadlock broke right after the interval with an own-goal. Adelino Vieirinha stormed at the back of Olympiakos's defence and delivered a strong cross. Gianniotis tried to block the ball, it slipped out of his hands and Vuković tried to save off the line, only to send it at the back of the net.
After taking the lead, PAOK gave space to their rival and switched to a counterattacking game. Olympiakos opted for shots from outside the box and headers from inside. But Paschalakis was there to keep his goal intact.
The "Double-Headed Eagle" held on to that valuable 1-0 lead and won a second consecutive derby against one of the main contenders for the Super League title, while also returning to the top of the standings.
Line-ups:
Olympiakos: Gianniotis, Elabdellaoui, Meriah, Vuković, Tsimikas, Camara, Bouchalakis (82' Guilherme), Christodoulopoulos (69' Guerrero), Fortounis (82' Fetfatzidis), Podence, Hassan.
PΑΟΚ: Paschalakis , Matos , Varela , Crespo , Vieirinha (84' Toșca ), Cañas , Maurício , Limnios (72' Wernbloom ), Pelkas (58' Jabá ), Biseswar , Prijović