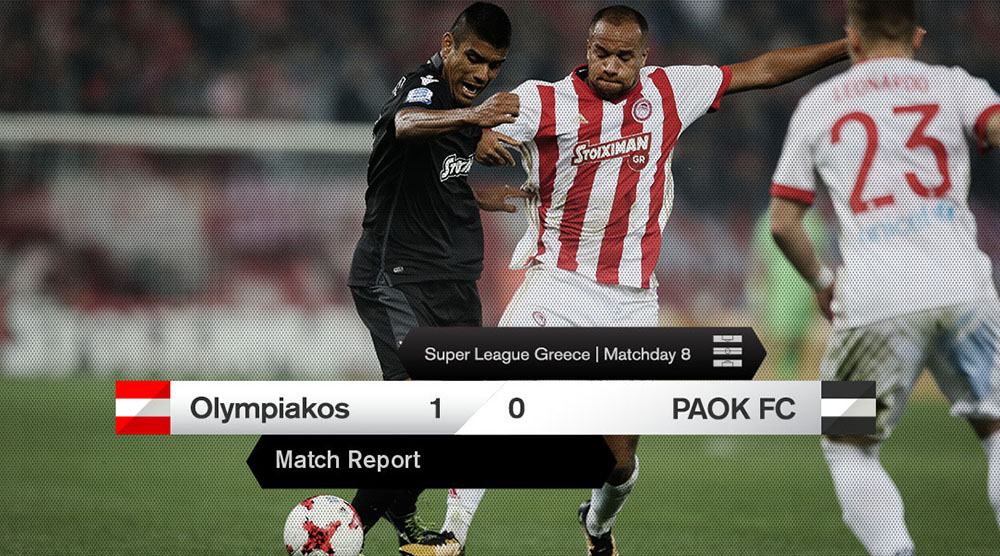 PAOK's main aim was to prove that they have no inferiority complex. They achieved that. Pressing up high, they passed the ball around confidently and encountered spaces in Olympiacos's box.
Omar El Kaddouri  was the first to go near, but his team-mates didn't follow his movement and cross towards the far post. A few minutes later, he did find  Aleksandar Prijović , but the latter's volleyed shot went wide.
Olympiacos didn't want to take any risks and opted to attack from the flanks and look for set pieces. Such an attempt brought their only clear opportunity through Engels.
The two teams hit the locker rooms for the interval after Proto saved Maurício's effort. PAOK made a few stray passes in midfield, but were determined not to concede possession and space to the home side.
In the second half, Olympiacos didn't alter their game. Always looking for that defining set-piece, they found it in the 50th minute, with a free-kick taken by Fortounis. In his effort to clear the danger, Carlos Zambrano sent the ball towards Engels's body and the latter became a scorer out of nothing.
The "Double-Headed Eagle" continued searching for a clear opportunity in front of Proto. They came close with  Léo Matos , whose header went just wide, in the 69th minute, when Răzvan Lucescu's troops were in control of proceedings.
Nagging fouls interrupted the flow of the encounter, as the two coaches set out to neutralize their rivals' assets, therefore there was too little net playing time and almost no classic opportunities to score. Having the lead, Olympiacos could afford to wait behind the ball, closing all spaces and making it difficult for PAOK to deploy their game.
Takis Lemonis's moves from the bench all aimed to play the scoreline, while PAOK were squandering chances from half-meter out with Yevhen Shakhov and Djalma Campos. Olympiacos defended in numbers, wasted time and stopped all PAOK's attack in the last quarters with fouls. But the visitors failed to make the best of the resulting set pieces.
The "Double-Headed Eagle" wasted a huge opportunity to take something more out of the Karaiskakis match, apart from the confidence that they are better than this direct rival.
Line-ups:
Olympiacos: Proto, Omar, Engels, Cissé, Koutris, Romao, Odjidja, Fortounis (86′ Zdjelar), Pardo, Androutsos (69′ Marin), Ansarifard (89′ Djurdjević)
PΑΟΚ:  Rey ,  Matos , Zambrano,  Varela , Leovac (79′  Biseswar ), Cimirot,  Maurício  (62′  Shakhov ), Mak (69′ Campos),  El Kaddouri ,  Vieirinha ,  Prijović