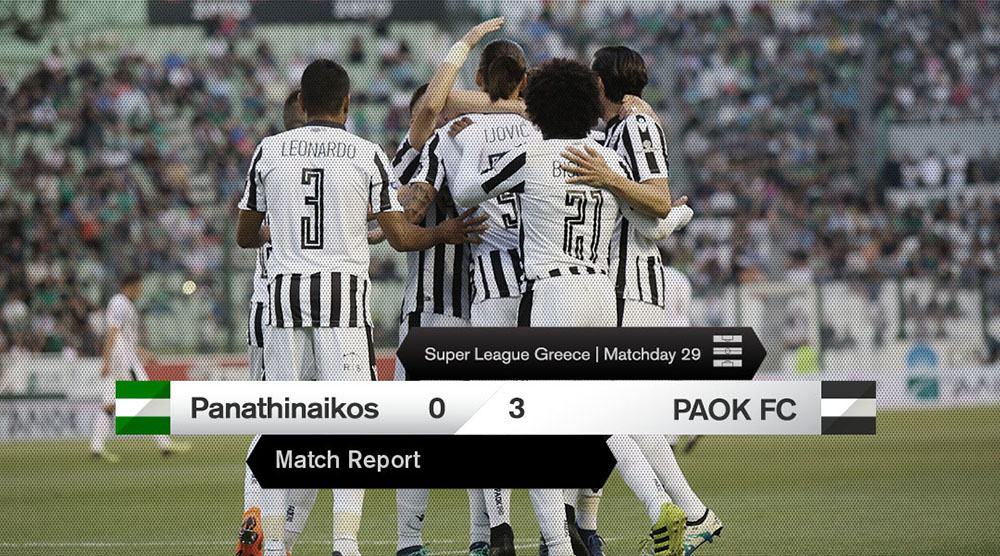 Winners and leaders until the end
For the cynics, the Leoforos clash was inconsequential. But not for PAOK. The "Double-Headed Eagle" kicked off the game with the sole purpose to win, continue leading the standings (of points gathered on the pitch) and prove their quality and character. And they managed it. It wasn't easy, but it was emphatic and thoroughly deserved.
Panathinaikos, being a big club, put on a fight and brought out the given quality of their players. They came close to scoring through Kaçe, Mystakidis (among the best of the match), Luciano and Donis and change the outlook of the encounter. However they couldn't avoid the defeat.
PAOK prevailed thanks to the characteristics of their game: balance between the lines, good transition game and pressure high up the pitch. The opener was just a matter of time. In the 27th minute, Diego Biseswar pressured Mounier who was trying to launch a counterattack for Panathinaikos. The ball reached Aleksandar Prijović who gave PAOK the lead with a textbook finish.
An almost identical move brought the second goal of the visitors. Dimitris Pelkas stole the ball from Insua and then combined perfectly with Prijović, allowing the Serbian striker to complete his brace of the evening.
A combination "made in PAOK" brought the third goal. Dimitris Limnios fed Léo Matos from the right, Maurício and Prijović teed up incoming Yevhen Shakhov for the simplest of finishes.
PAOK have more points (67) than any other team with one match less, more victories recorded, largest goal difference and the league's top scorer.
Line-ups:
Panathinaikos: Vlachodimos, Johansson, Kourbelis, Kolovetsios, Insua (85' Ikonomou), Lod (17' Mystakidis), Tzandaris, Kaçe, Mounier, Donis (64' Μολίνς), Luciano.
PΑΟΚ: Paschalakis , Matos , Varela , Crespo , Vieirinha , Cañas , Maurício , Mak (69' El Kaddouri ), Pelkas (74' Limnios ), Biseswar (83' Shakhov ), Prijović .