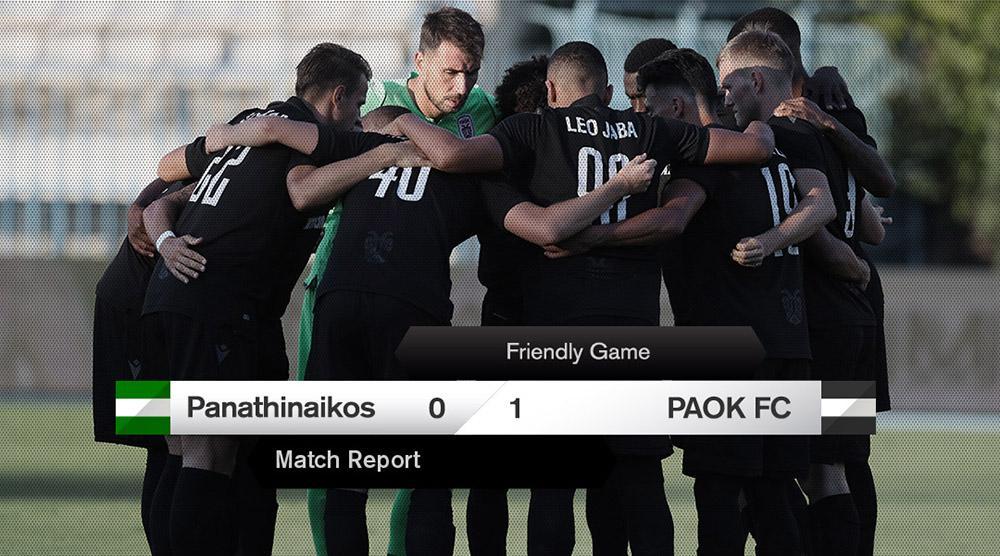 A friendly win with lots of new faces
PAOK defeated Panathinaikos 1-0 at the Grigoris Lamprakis Stadium in Athens in the team's last pre-season friendly before the start of the Super League and the upcoming European battle with Benfica.
PAOK traveled to Athens without its internationals Limnios, Giannoulis , Paschalakis , Tziolis, Michailidis, Balogiannis, Tsiggaras, Ingason and Mihaj , injury victims Rodrigo and Douglas, as well as Pelkas and El Kaddouri, having at ts disposal a clutch of players from the Under-19 squad, along with Nika Ninua , Marko Mihojevic,and Leftheris Lyratzis for the first time this season.
Abel Ferreira selected once more a 3-4-2-1 system, starting with Zivkovic in goal, a back three of Varela, Crespo, and Mihojevic, Biseswar and Lyratzis on the flanks, and Schawab and Esiti in central midfield, with Swiderski in front of  Akpom  and Jaba.
Panathinaikos began strongly and missed two good opportunities. After that, the Double-headed Eagle found their chemistry and began pressing for a goal, which came in the 39th minute when Lyratzis worked himself space for a shot, which was saved by the Panathinaikos goalkeeper, only to fall kindly to  Akpom  who sent the rebound into an empty net.
In the second half both coaches made a flurry of changes, with Ferreira giving Ninua 45 minutes, while he also saw Crespo complete a full 90 minutes for the first time after his comeback from a long injury layoff. Esiti and Jaba played virtually the full game, and Koutsias , Koulierakis, Tachatos, Panagiotou, and Vrakas all saw some action.
The home side controlled much o the possession and missed another couple of good chances with Zivkovic and Rey making some good saves, with the visitors managing to keep a clean sheet.
The PAOK lineup:
Zivkovic (59′ Rey ), Crespo , Varela (59′ Koulierakis), Mihojevic (72′ Panagiotou), Lyratzis , Biseswar (71′ Vrakas ), Schwab (46′ Ninua ), Esiti , Akpom (59′ Tachatos), Jaba (89′ Giaxis), Swiderski (59′ Koutsias ).