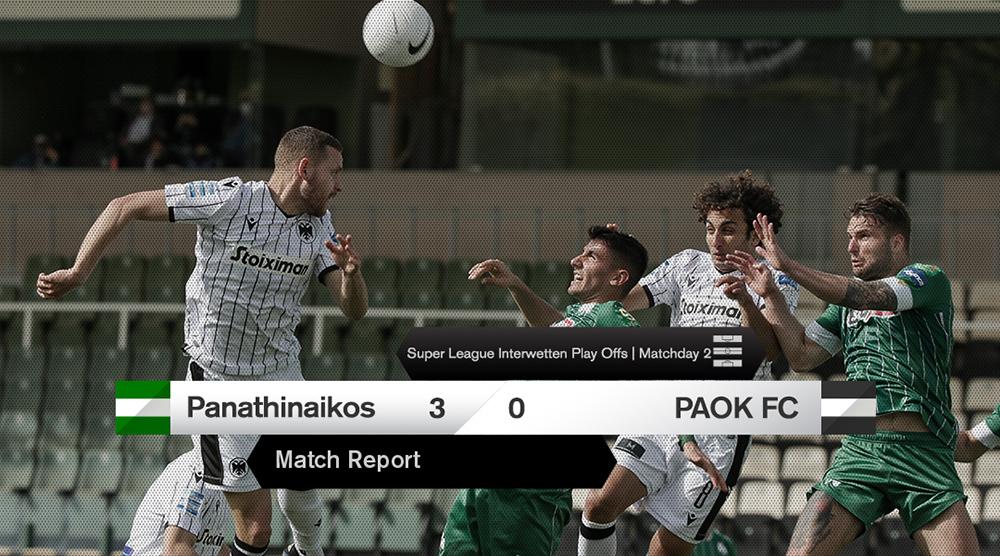 The Double-headed Eagle's coaching team selected the same starting lineup as the one from the premiere against AEK at the Toumba, with Thomas Murg taking the place of Christos Tzolis.
From the first minute, as was anticipated, PAOK stated their intentions by pressing high up and pitch and closing the Greens in their own half, but without managing to threaten Dioudis's goal early on.
A good run and cross from A. Zivkovic for Swiderski and a side-footed effort from Murg were the best moments for the visitors. In contrast, Panathinaikos managed to score with their only chance of the first half through Machenda in the 39th minute.
In the second half the pattern of play did not change. PAOK pushed forward but could not find a way to score against the multi-faceted Greens' defence and threatened mainly with corners and set pieces around the opponent's penalty area.
Then in the 66th minute, the Double-headed Eagle's lost their best chance of an equalizer. Crespo was denied by a fine Dioudis save, and both Ingason and Douglas also failed to convert chances.
PAOK continued to lay siege to the Greens penalty area, but then against the run of play, the Greens converted their second chance of the game into a goal with Villafanez scoring from a free-kick after 79 minutes.
It was then that the home team's confidence came to the fore, and they pushed forward and grabbed a third goal through Aitor in the 85th minute.
Team lineups:
Panathinaikos: Dioudis, Mollo, Juankar, Schekefeld, Pougouras, Niasse (87᾽ Kambetsis), Alexandropoulos, Mauricio (74᾽ Sanchez), Chatzigiovanis (78᾽Aitor), Villafanez, Macheda (78᾽ Ioannidis).
PAOK: Paschalakis, Rodrigo, Ingason , Crespo, Baba, Schwab (70᾽ Warda), Douglas, Α.Ζivkovic, Murg (62᾽ Yzolis), El Kaddouri , Swiderski (70᾽ Krmencik).