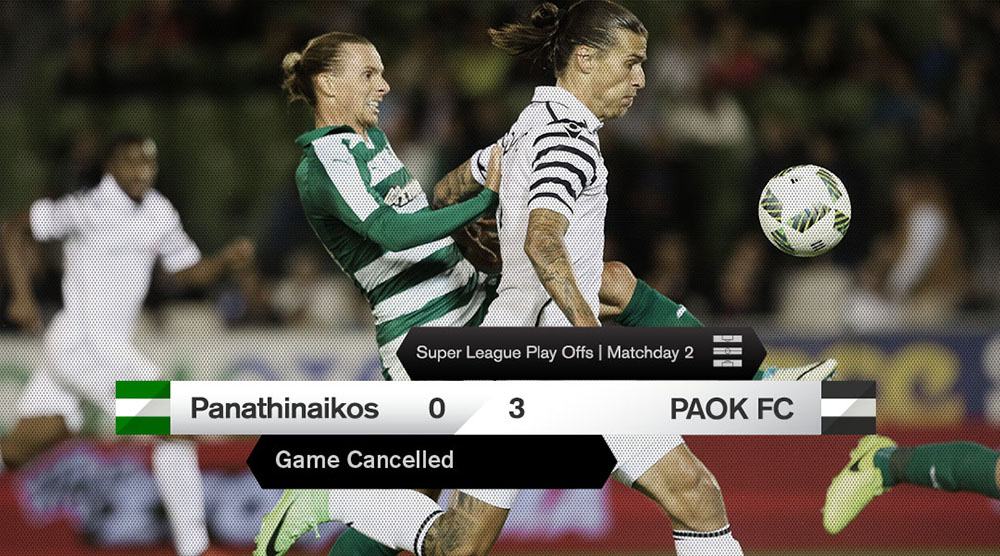 Match suspended with clear accessories after the fact
The Leoforos game for matchday 2 of the Super League play-offs was suspended and never resumed, due to the unprecedented shameful conditions reigning at the expense of PAOK. At the point of suspension, Panathinaikos were leading 1-0.
Incomprehensible decisions of referee Kominis, brawl, red cards, match suspension and injury of PAOK's head coach… These are but a few events that made for this so-called football encounter between Panathinaikos and PAOK. The responsibility lies heavily on the shoulders of those who committed these offenses and even more on the accessories.
Regarding the game, the "Double-Headed Eagle" started poorly just like in Sunday's encounter against AEK Athens. They found themselves trailing in the 10th minute, after Berg caught PAOK defenders napping and gave his side the lead from close up.
The black-and-whites picked up their performance from that moment on and recorded their first attempt on goal in the 17th minute with a long-range shot by Pedro Henrique, that Vlachodimos pushed away for a corner with his fists.
Three minutes later, Panathinaikos's goalkeeper was sent off with a direct red card, for his very reckless tackle on the Brazilian winger outside of his box.
Ergys Kaçe took the free kick and the ball rattled the left-hand post of sub goalkeeper Steele.
Having already taken control of proceedings and in numerical superiority, PAOK continued to push for an equalizer.
They wasted a perfect opportunity to level just before the interval with Djalma Campos, who failed to finish from close up, teed up by Aleksandar Prijović from the right.
An inconceivable decision of referee Kominis saw PAOK reduced to 10 players as well. Amr Warda was sent off in the 51st minute with an non-existent second booking for a foul.
The situation was already tense, but it spiraled out of control in the 54th minute, following an effort on goal by José Ángel Crespo in Panathinaikos' box. Berg's unsporting and provocative behaviour towards the Spanish defender ignited a brawl between the players.
The tension boiled over in the stands and Vladan Ivić was hit in the head from a full beer can thrown from the fans. The match was suspended in the 58th minute and everybody was called to the dressing rooms.
The head coach of PAOK was taken to the hospital in an ambulance and the match was suspended for hours. Despite the regulation being clear on such events, referee Kominis took forever to announce his decision to suspend the match definitely. His stance raises even bigger questions regarding his intentions.
Line-ups:
Panathinaikos: Od.Vlachodimos, Hult, Moledo, Koutroubis, Coulibaly, M'Poku, Marinakis, Reis, Klonaridis, Molins (23' Steele), Berg.
PΑΟΚ: Glykos, Leovac, Crespo, Malezas, Kitsiou, Kaçe (46' Biseswar), Cimirot, Shakhov, Warda, Henrique (35' Campos), Prijović.