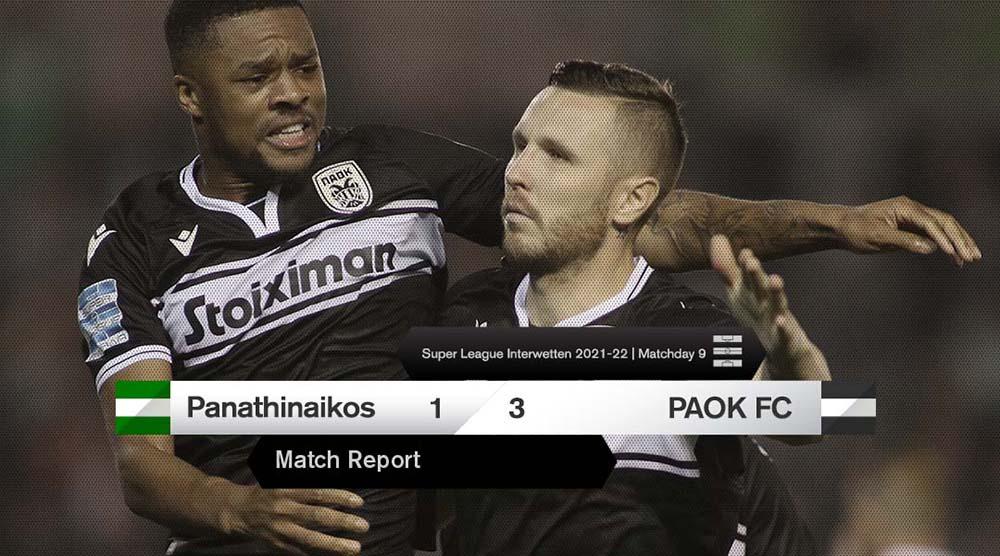 Kurtic inspires away over Panathinaikos
A late brace from Jasmin Kurtic helped PAOK to a 3-1 away win over Panathinaikos on Matchday 9 of the 2021-22 Super Laegue Interwetten.
As thing s turned out, it was a classic PAOK match that we have come to expect so far this season. The Double-headed Eagle were the dominant team on the pitch, took an early lead, went on to waste a clutch of opportunities to kill off the game, before then conceding a goal almost out of nowhere. However, this time there was a happy ending as PAOK had the answer in the final stages of the game and claimed a very important away win.
Razvan Lucescu made several changes compared to the match against Copenhagen at the Toumba. Varela was given a staerting berth, Taylor was brought in at right-back, Schwab started from the bench with Esiti starting in his place, while Murg and Akpom were flanked by A. Zivkovic and Biseswar in attack.
PAOK made a strong start to the match and went ahead after just 13 minutes. Vieirinha pushed high up the pitch, A. Zivkovic then produced a wonderful piece of individual skill to set up Akpom, and the English forward scored with a shot on the move to make it 1-0 to the visitors.
In the 26th minute, Biseswar then had a great opportunity to score two goals for his team, but both of his efforts were blocked by Panathinaikos defender Velez, with the VAR review resulting in no violation being given for the second which looked like a penalty.
The hosts had a good chance in the 32nd minute with a header by Palacios, while Biseswar fired in another shot but failing to trouble the home goal as the visitors went in at half-time 1-0 ahead.
PAOK then came on strong again at the start of the second half, and Brignoli made a great save from Murg's 54th-minute shot, while the Austrian then missed again a minute later from a good position. And, true to what has been the script so far this season, PAOK were punished once again for their profligacy in front of goal.
Just one minute after coming off the bench for the home sie, Mauricio scored with a shot from outside the penalty area as Panathinaikos found an equalizinf goal against the run of play.
The Double-headed Eagle were not disheartened by that setback this time, however, and they continued to dominate and play with patience as they searched for the winning goal.
Brignoli thwarted Akpom in the 78th minute, while a minute later the Panathinaikos goalkeeper also stopped an attempt by A. Zivkovic from a wide position.
In the 83rd minute, the ball reached Michailidis from a corner. The young defender controlled the ball  and looked to move in on goal but Villafanez fouled him. The referee checked the VAR review and awarded a spot-kick, with Kurtic scoring from the spot to make it 2-1 to PAOK.
The hosts pressed forward to trry and get an equalizer, but it was PAOK who managed to score another goal with Kurtic sealing the victory for the Double-headed Eagle with a free-kick strike to make it 3-1.
The result means Razvan Lucescu has won 5 from 5 matches against Panathinaikos as coach of PAOK, and the Double-headed Eaglew maintained the four-point gap behind league leaders Olympiacos, who prevailed 1-0 against Ionikos at home, while moving to within one point of second-placed AEK, who were held to a 2 -2 draw at Apollon Smyrnis.
Team lineups:
Panathinaikos: Brigioli, Kotsiras, Sankhare, Velez, Juankar, Perez, Alexandropoulos 58′ (Mauricio), Palacios, Carlitos (78′ Machenda), Ioannidis (66′ Villafanez), Vital (58′ Chatzigiovanis).
PAOK: Paschalakis, Taylor, Varela, Michailidis, Vieirinha (33′ Rodrigo), Esiti (86′ Schwab), Kurtic, A. Zivkovic, Biseswar, Murg (70′ El Kaddouri), Akpom (86′ Swiderski).