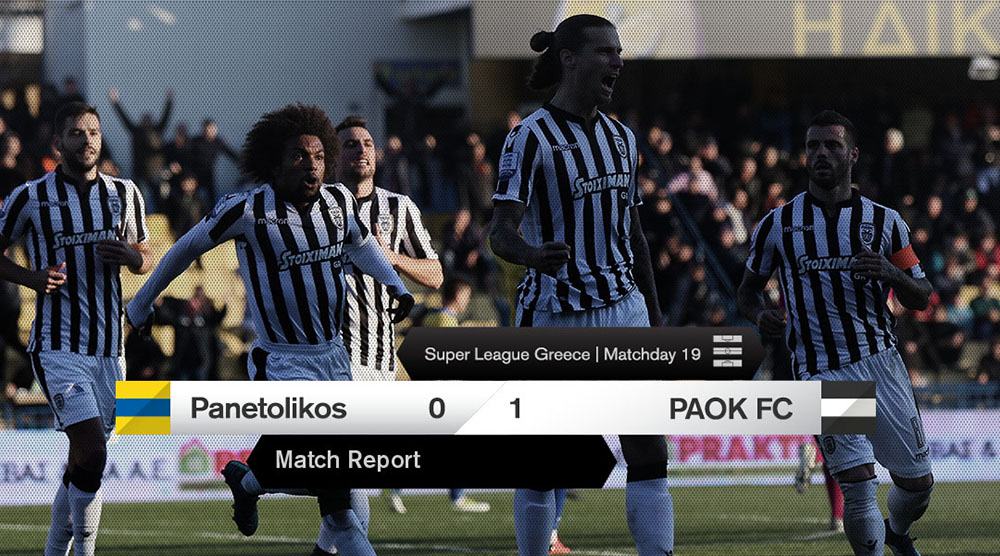 Historic 11x11 feat of PAOK in Agrinio
Compared with the Greek Cup match against Atromitos, Răzvan Lucescu introduced Maurício, José Alberto Cañas and Omar El Kaddouri in the axis and fielded Djalma Campos on the left flank, with the instruction to lead most attacking plays of PAOK from there.
The "Double-Headed Eagle's" defensive transition was to the point, closing down spaces as the very pacy attacking midfielders of the home side were looking for fast counters. Panetolikos became dangerous just once through Clésio, who received the ball at the back of the defence but was denied by Alexandros Paschalakis with a spectacular save.
PAOK didn't change their game plan after El Kaddouri had to retire from the match. Diego Biseswar came off the bench and would change positions with Campos in an effort to create more scoring opportunities. Their cooperation produced the best attempt of the first half. Just before the interval, the Dutch player broke from the left and served the ball towards the penalty spot, where Campos was lurking, but the latter's shot was misplaced.
The substitution of Dimitris Limnios by Róbert Mak in the 57th minute reshuffled PAOK's attack, Campos going right and Biseswar featuring in a classic playmaking role behind Aleksandar Prijović. The "Double-Headed Eagle" became more attack-minded and staged a siege around Panetolikos's box, wasting huge chances for an opener through Biseswar, Léo Matos and Prijović. In one of these forays, in the 66th minute, Mihaj used his hand to stop Campos's cross.
Matos was a thorn in Panetolikos's side, launching attack after attack. In the 77th minute, he set up Prijović but the latter's shot was cleared off the line by Panetolikos's defenders. PAOK continued pressuring their hosts who defended in numbers. In the 87th minute, the "Double-Headed Eagle" got the goal they deserved. Chantakias fouled Varela into the box and Prijović netted from the spot.
Line-ups:
Panetolikos: Kyriakidis, Μarinakis, Rodrigues (89' Vakrakos), Mihaj, Tsokanis, Paulo, Clésio (68' Vasiloudis), Díaz, Mazurek, Rosa, Morar.
PΑΟΚ: Paschalakis, Matos, Varela, Crespo, Vieirinha , Cañas (77' Shakhov), Maurício, Limnios (57' Mak), El Kaddouri (21' Biseswar ), Campos, Prijović.