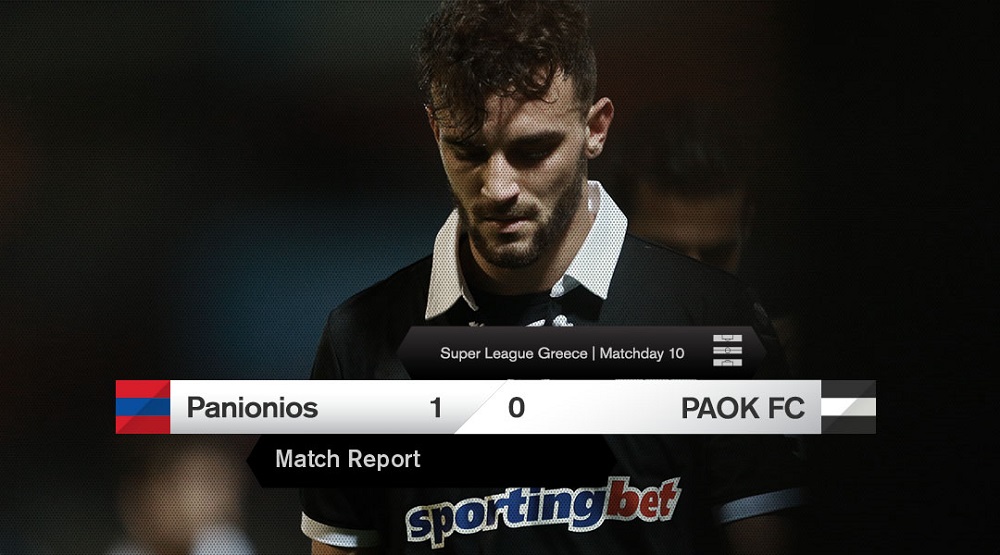 No matter how much they tried…
PAOK deserved more out of their encounter in Nea Smyrni, but ended up losing 1-0 to Panionios for Super League matchday 10. The goal they conceded very early in the match, just when they were trying to find their footing, was enough to condemn them to defeat.
The first minutes of the game were tentative, with PAOK trying to find their footing as they had several new faces in their starting line-up. In the 14th minute, they found themselves trailing 1-0, with Karim Ansarifard's strike.
The "Double-Headed Eagle" reacted more than ten minutes later (25') when teed up by Léo Matos from the right, Facundo Pereyra saw his header hit the woodwork. That was PAOK's first noteworthy action in the game. Soon afterwards, Giannis Mystakidis's fine shot was deflected off a defender and resulted in a corner kick.
PAOK took control, had 60% ball possession and most of the game was played in Panionios's half, as the "Double-Headed Eagle" pressed for an equalizer. However the first half ended with the home side keeping their 1-0 lead.
Just after the interval, Pereyra was set up by Efthymis Koulouris, but sent his shot just wide from close range. Gianniotis saved a shot of substitute Garry Rodrigues, while Matos also saw his effort go just off the post in the 64th minute.
PAOK continued bombarding Panionios's goal, but to no avail. Koulouris was denied by the crossbar in the 68th minute and, eight minutes later, his header was blocked by Gianniotis.
Unfortunately, no matter how hard they tried to score at least one goal, it wasn't meant to be…
Line-ups:
Panionios: Gianniotis, Tasoulis (86' Katharios), Vlachos, Risvanis, Ikonomou, Siopis, Korbos, Masouras (67' Antoniadis), Ansarifard (80' N'Gog), Masoud, Ben.
PΑΟΚ: Glykos, Matos, Tzavellas, Malezas (69' Leovac), Crespo, Charisis (46' Rodrigues), Cañas, Shakhov, Mystakidis, Pereyra, Koulouris (81' Athanasiadis).