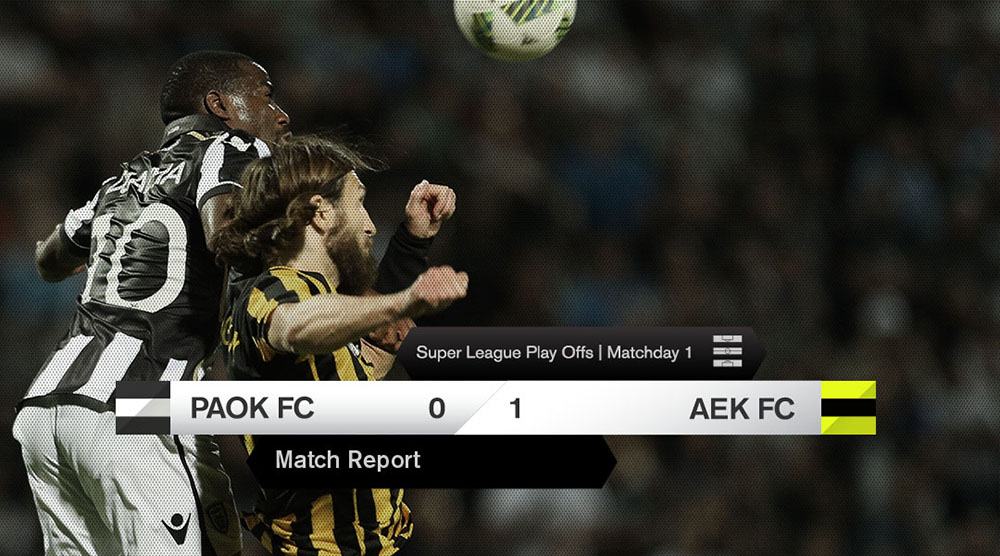 A back-to-back victory wasn't in the cards
An early goal of AEK Athens led to PAOK's 1-0 defeat on the opening match of the Super League play-offs,
The "Double-Headed Eagle" were made to pay for their slow start into the match. Their gradual improvement wasn't enough and they couldn't prevent a bad start to their play-off campaign.
PAOK were caught off guard right from the start, as Dídac gave AEK Athens the lead with a side shot from the left.
The rearguard of the "black-and-whites" was tested soon again, but Panagiotis Glykos saved his goal from further danger twice in three minutes.
The home side reacted four minutes later with a textbook counterattack, but Dimitris Pelkas's shot flew wide.
PAOK had managed to balance the encounter and claim more ball possession, but their finishing was off.
In the 30th minute, Aleksandar Prijović dribbled his way past AEK's defender, but he was blocked by Dídac in the last minute. Two minutes later, a shot by Diego Biseswar nearly missed the right post.
Prijović wasted a huge chance to equalize in the 58th minute, when his close-range shot grazed the post.
Stelios Kitsiou also missed his opportunity in the 76th minute, connecting Pelkas' free-kick but sending his header wide.
One minute later, Biseswar and Pedro Henrique squandered a gilt-edged opportunity to make it 1-1. The former charged into the box and crossed, but the latter failed to connect his shot.
The rest of the encounter went by without a noteworthy opportunity and PAOK suffered a home defeat on the play-offs opening day.
Line-ups:
PΑΟΚ: Glykos, Μatos (46' Κitsiou), Crespo, Varela(65' Μalezas), Leovac, Cañas, Cimirot, Campos (57' Henrique), Biseswar, Pelkas, Prijović.
ΑΕΚ: Αnestis, Galo, Chygrynskiy, Vranješ, Dídac, Galanopoulos (72' Bakasetas), Simões, Ajdarević, Christodoulopoulos, Mantalos (72' Johansson), Araujo (61' Almeida).