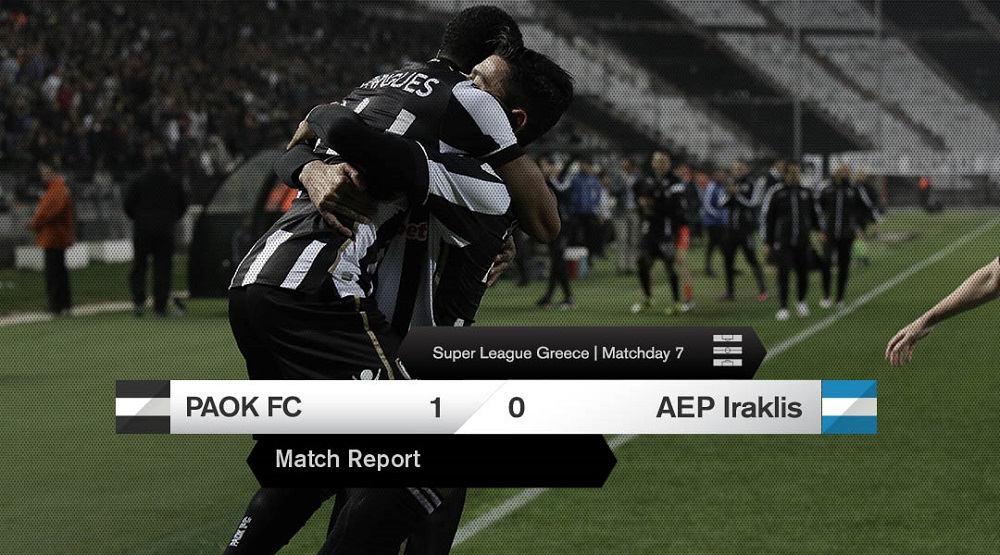 Three points, minimum goals
All victories give three points, regardless of the goals scored. However, PAOK's 1-0 over AEP Iraklis doesn't reflect the countless opportunities the home side wasted for a larger win.
PAOK flew to an ideal start. Two-and-a-half minutes after kick-off, Diego Biseswar teed up oncoming Garry Rodrigues who slammed his shot past Huanderson for the opener. From that moment on, the visiting goalkeeper mounted a wall and denied PAOK again and again. He is the main reason why the match ended 1-0, despite the 23 (!) attempts on goal by Vladan Ivić's troops.
Stefanos Athanasiadis wasted huge opportunities (15', 18'). In the 27th minute Saramantas fouled Djalma Campos and, at first instance, the referee didn't show him what would be his second yellow card. The player however used abusive language towards assistant referee Kourobilia and he was given his marching orders with a direct red card. Up until that moment, AEP Iraklis hadn't come close to Panagiotis Glykos's box, not even once.
In theory, PAOK's task would be easier on a numerical advantage. However the visiting side opted for tougher tackles and time management. They also relied heavily on the heroics of Huanderson, who denied José Alberto Cañas's shot, a point-blank header by Léo Matos and a shot by Campos from inside the box.
After the interval, Iraklis aimed to close down spaces and reduce PAOK's attacking waves. They managed to keep their goal intact in the second half, thanks mainly to the lack of finishing displayed by the "Double-Headed Eagle". Biseswar came close to scoring three times, but to no avail, Cañas missed a sitter, while Klaus hit the crossbar from close range after yet another save by Huanderson.
PAOK returned to their winning ways after two consecutive league draws and reduced distances from the top of the standings. They have to remedy their lack of finishing of course, but past experience suggests that such spells can be overcome with bigger focus.
Line-ups:
PΑΟΚ: Glykos, Matos, Crespo, Malezas (46′ Varela), Leovac (46′ Kitsiou), Cañas (85′ Cimirot), Shakhov, Biseswar, Rodrigues, Campos, Athanasiadis.
AEP Iraklis: Huanderson, Saramantas, Bartolini, Ziabaris, Kouros, Roussos (71′ Karagounis), Kyriakidis, Intzoglou, Monteiro, Passas (46′ Angelopoulos), Lambrou (83′ Tsotras).