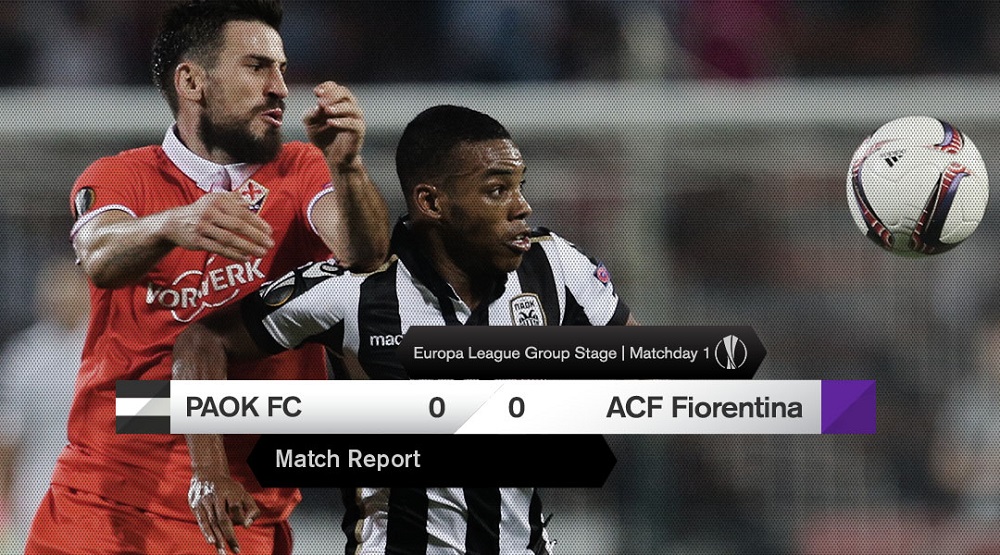 PAOK's opening match in the UEFA Europa League ended in a 0-0 draw. The "Double-Headed Eagle" looked their high-profile opponents in the eye, but details plus a refereeing decision at stoppage time deprived them of a famous win.
Both rivals avoided taking risks, seeming determined to keep a clean sheet above all. PAOK took initial command of proceedings, looking to find his way past the Italian side's defence. However it was ACF Fiorentina who first came close. Panagiotis Glykos somehow kept Babacar's volley out with an astonishing reflex save from point-blank range.
After the interval, ACF Fiorentina were more lively in attack, but Vladan Ivić responded quickly with a shift to a 3-5-2 formation, looking to strengthen his defence. Glykos pulled out yet another decisive save on Babacar's effort. In the last 10 minutes, Garry Rodrigues charged forward to win it. He sprung the offside trap in the 84th minute, but his effort went straight at Tătărușanu. In the dying minutes of the encounter, the Cape Verde winger saw his justified appeal for a penalty waved away, as his cross struck Astori's trailing hand.
This last chance left the bitter feeling that PAOK deserved more in their opening match in the UEFA Europa League group stage. But even that first point is a positive sign, along with the warm applause of the 23.000 fans after the final whistle.
Line-ups:
PΑΟΚ: Glykos, Matos, Leovac, Varela, Tzavellas, Cimirot, Cañas, Pelkas (57' Shakhov), Rodrigues, Campos (57' Crespo 57′), Αthanasiadis (79' Τhiam)
ACF Fiorentina: Tătărușanu, Rodríguez, Astori, Tomović, Olivera, Badelj, Borja Valero, Salcedo (74′ Bernardeschi), Iličić (62′ Sánchez), Kalinić, Babacar (76′ Tello)