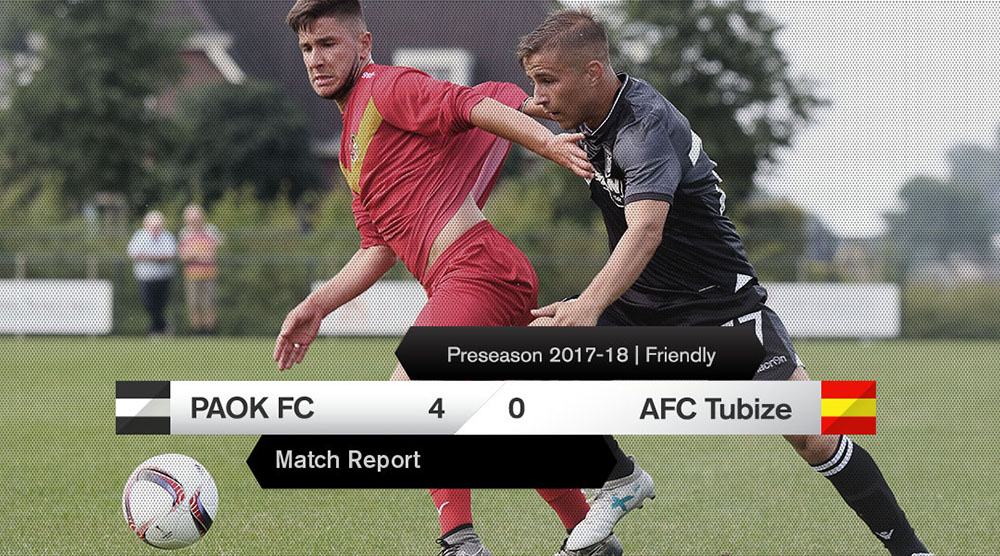 A four-goal galore to get things started
In their first friendly encounter on Dutch soil, PAOK prevailed 4-0 over Belgian side AFC Tubize, in a match that enabled the "Double-Headed Eagle" players to get on competition mode after their tough training sessions and also apply Aleksandar Stanojević's tactics for the first time.
Aleksandar Stanojević fielded a 4-4-2 formation with Aleksandar Prijović and Stefanos Athanasiadis as clear-cut forwards. His players started strongly and, after a few recon minutes, they picked up pace and looked for the opener.
Aleksandar Prijović scored PAOK's maiden goal of the season, even unofficially. He collected Pedro Henrique's assist and gave his side the lead from close up in the 12th minute. Dimitris Pelkas wasted two good opportunities to increase the lead, but Henrique proved more successful in the 35th minute with an impeccable finish, following a combination with Stefanos Athanasiadis.
Dorian Lévêque was unlucky in half-time, as he suffered an injury during his warm-up. He got two stitches and sat out of the encounter. PAOK fielded 10 new faces for the second half, Panagiotis Deligiannidis covering for the French player.
Despite the numerous substitutions by both sides, the pace of the game remained high. PAOK controlled the encounter and continued creating danger in their rivals' box. In the 59th minute, Ergys Kaçe's cross towards the far post was met by Léo Matos who provided a headed assist for Diego Biseswar for a 3-0 lead.
Efthymis Koulouris wrapped up proceedings from the spot, after Biseswar was awarded a penalty following his fine solo effort. In the 80th minute, Dimitris Limnios made his unofficial debut for the team, coming in for Deligiannidis.
In the first half, PAOK played with the following line-up:
Melissas, Deligiannidis, Crespo , Varela , Leovac, Shakhov , Cimirot, Pelkas , Henrique, Athanasiadis, Prijović .
PAOK's second-half line-up:
Siampanis , Matos , Pouggouras, Dimitriou, Deligiannidis (80′ Limnios ), Kaçe, Cañas , Campos, Biseswar , Jairo, Koulouris.