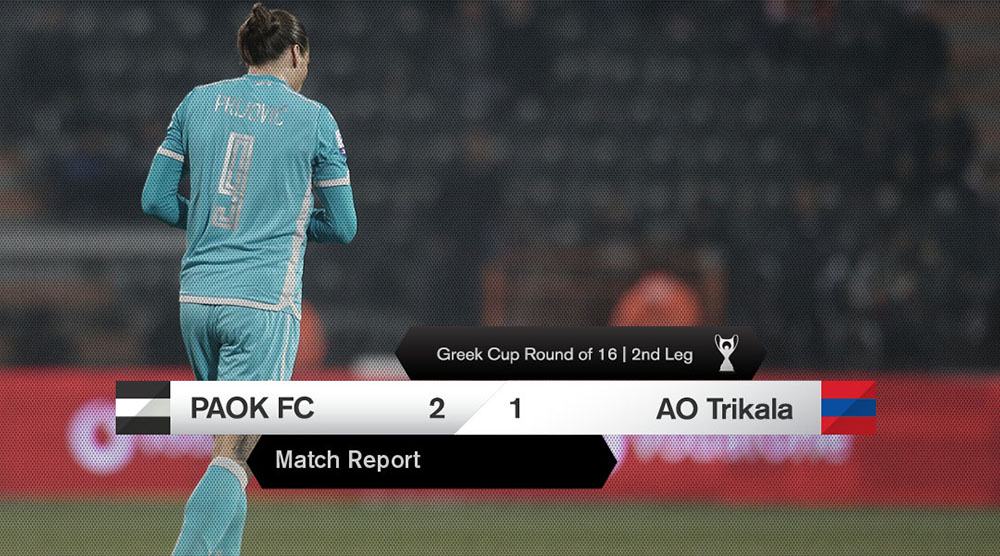 PAOK's 5-1 victory in the first leg left no qualification hopes to AO Trikala. The Football League side came to Toumba with various new faces on their squad, aiming for a tough test that would serve them in their ongoing effort to gain promotion to the Super League.
As for the "Double-Headed Eagle", they also lined up new faces, Răzvan Lucescu getting the opportunity to check out players with less participation so far, such as Achilleas Pouggouras and Panagiotis Deligiannidis.
The first half of the encounter had very few quality plays and will soon be forgotten. PAOK claimed ball possession right from the start and AO Trikala settled for counterattacking opportunities. Aleksandar Prijović wasted a huge chance for the opener in the 11th minute misfiring his close-range shot on a cross by Diego Biseswar . Gojko Cimirot tried his luck twice with as many shots, while Biseswar also went close, forcing Apostolidis to some fine saves.
PAOK wasted their biggest chance in the 26th minute. Róbert Mak and Yevhen Shakhov combined beautifully, but the former's shot went just wide.
After the interval, the complexion of the encounter remained unchanged. The last quarter though proved more fruitful. Prijović forced Apostolidis into an impressive save to deny his header in the 72nd minute, but six minutes later the Serbian striker beat the visitors' goalkeeper. He collected the rebound after Apostolidis saved Biseswar's effort and sent the ball at the back of the net for the opener.
AO Trikala charged forward in the last ten minutes of the encounter in search of an equalizer. Marios Siampanis produced an excellent save, assisted also by the woodwork, denying Grontis's header in the 88th. Three minutes later, Milosavljev made it 1-1 with a technical shot.
The match was far from over though. Deep into stoppage time, Giannis Mystakidis's cross from the right was stopped by Chintzidis with his hand and referee Fotiadis pointed to the spot. Prijović converted the penalty for his 14th goal in the current season and handed yet another victory to the "Double-Headed Eagle" who are now waiting to find out their next rivals in the Greek Cup quarter-finals.
Line-ups:
PΑΟΚ: Siampanis, Pouggouras, Crespo (60' Mystakidis), Malezas, Deligiannidis, Cimirot (81' Pelkas), Shakhov, Biseswar , Limnios, Mak (71' Koulouris), Prijović.
ΑΟ Trikala: Apostolidis, Chintzidis, Leandro, Kotsonis, Panos, Tsiaras, Andreopoulos, Dinas, Grontis, Tomić (61' Milosavljev), Zguri (73' D'Acol)