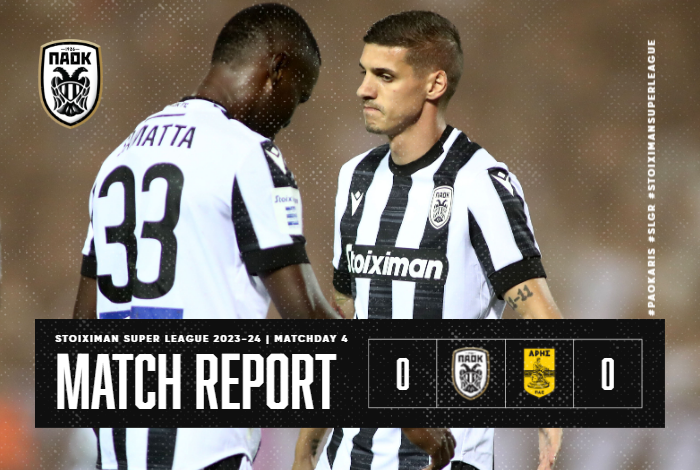 PAOK did everything right except score a goal. Stiffling their opponents and not giving them any room to attack, the Double-headed Eagle kept possession, and created chances, but the final whistle came and went with the home side conceding two points rather than earning one. And so a 0-0 draw with Aris at the Toumba Stadium was the result of the local derby on Matchday 4 of the 2023-24 Stoiximan Super League.
Razvan Lucescu gave a starting berth to Samatta, Ozdoev, and Meite, and his team dominated the pitch from the first minute. The Romanian coach's players kept control of the match, having the lion's share of the possession, exhibited good ball circulation, but they found it difficult to create corridors towards Cuesta's goal, due to the stacked visitors' defence.
The first important moment came in the 11th minute when Andrija Zivkovic squared the ball into the path of Giannis Konstantelias in the penalty area, but the young winger couldn't find the target. The Double-Headed Eagle's dominance did not translate into attempts on goal, with Ekong next to have a good header in the 35th minute which was saved by Cuesta.
The pattern of the match did not change in the second half. Chances were at a premium, with Baba threatening in the 73rd minute with a cross-shot that was saved by Questa, while Meite didn't catch the shot as he would have liked in the 81st minute, allowing the Aris goalkeeper to block again.
PAOK did find the net in the 84th minute with Despodov scoring a «goal» on his debut after an assist from Brandon , but VAR and match referee Papapetrou disallowed the Spaniard's goal for offside.
In the remaining minutes, PAOK failed to find a winning goal and let two points slip away.
Next up is the UEFA Europa Conference League group opener against Helsinki in Finland on Thursday (21.09, 19:45).
Team lineups:
PAOK: Kotarski, Vieirinha (Kedziora 72′), Ekong, Koulierakis, Baba, Ozdoev (Schwab 72′), Meite, A.Zivkovic, Konstantelias (Despodov 65′), Taison (Murg 90′), Samatta (Brandon 72′) .
Aris: Cuesta, Montoya, Fabiano, Brambetz, Odubajo (Veleth 67′), Doucouret (Suleimanov 67′), Verstrate (Pardo 90+), Karlsson (Christodoulopoulos 90+), Menendez (Zamora 67′), Rupp, Moron.