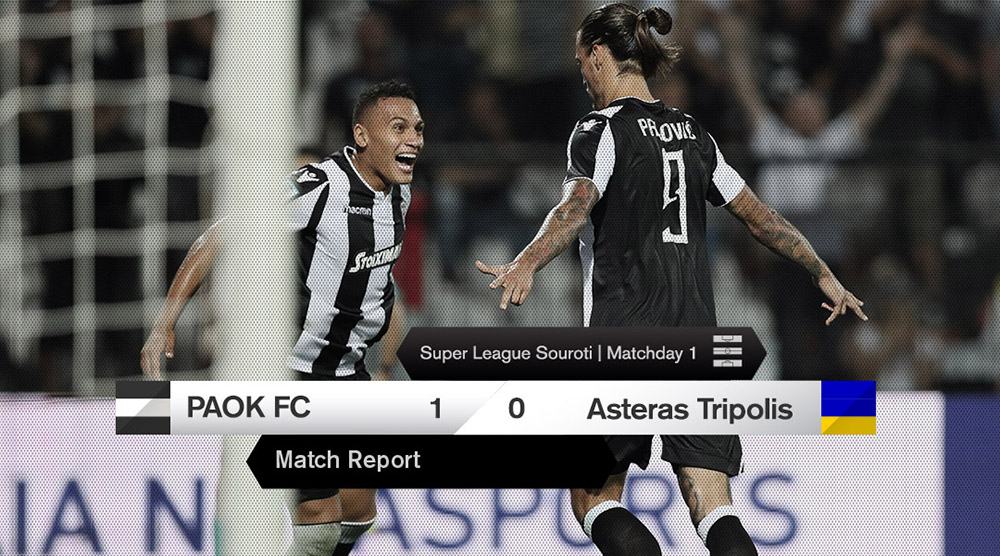 PAOK started off on the right foot
PAOK were in absolute control in the first hour of the encounter. Attractive football, patient deployment from the axis and the flanks, ball possession up to 80% and several chances to score… But PAOK players were denied by goalkeeper Papadopoulos who stole the show.
In the 8th minute, Amr Warda combined with Léo Jabá , but the Brazilian's volley was pushed away by the goalkeeper of the visitors. In the 30th minute, the latter stopped a header by Yevhen Shakhov following a cross by Adelino Vieirinha . PAOK went close also with Aleksandar Prijović , Warda and , but couldn't break the deadlock.
In the 37th minute, referee Koutsiaftis didn't sanction Kotsiras with a second yellow card after his hard tackle on Warda.
After the interval, PAOK continued their domination and came close to an opener with Jabá, Vieirinha and Prijović. But the match was decided in the 58th minute.
Shakhov's defense-splitting pass landed on Prijović's path. The Serbian forward dribbled Papadopoulos, the Arcadia goalkeeper having no other option but to bring him down. Prijović converted the spot kick for PAOK's first goal in the 2018-19 league.
In the 64th minute, Iglesias stepped on José Alberto Cañas but was not booked by the referee. In the last minutes of the encounter, PAOK dropped their pace due to fatigue and the upcoming European decider against SL Benfica. It was the opportunity Asteras Tripolis were looking for, in order to push forward for an equalizer. But they failed to create substantial danger, with the exception of a Manias's shot, blocked by Alexandros Paschalakis , and a header by Triantafyllopoulos.
PAOK remained undefeated in a league opening encounter for an 11th consecutive season. Pontus Wernbloom made his debut with the "Double-Headed Eagle", while Chuba Akpom got his first taste of Toumba.
Line-ups:
PΑΟΚ: Paschalakis , Μatos, Crespo , Khacheridi, Vieirinha , Shakhov , Cañas (74' Wernbloom ), El Kaddouri , Warda , Jabá (66' Biseswar ), Prijović (81' Akpom )
Asteras Tripolis: Papadopoulos, Martínez (79' Douvikas), Pasalidis, Τriantafyllopoulos, Κotsiras (46' Κyriakopoulos), Valiente, Munafo, Iglesias, Τsilianidis, Μanias, Κaltsas