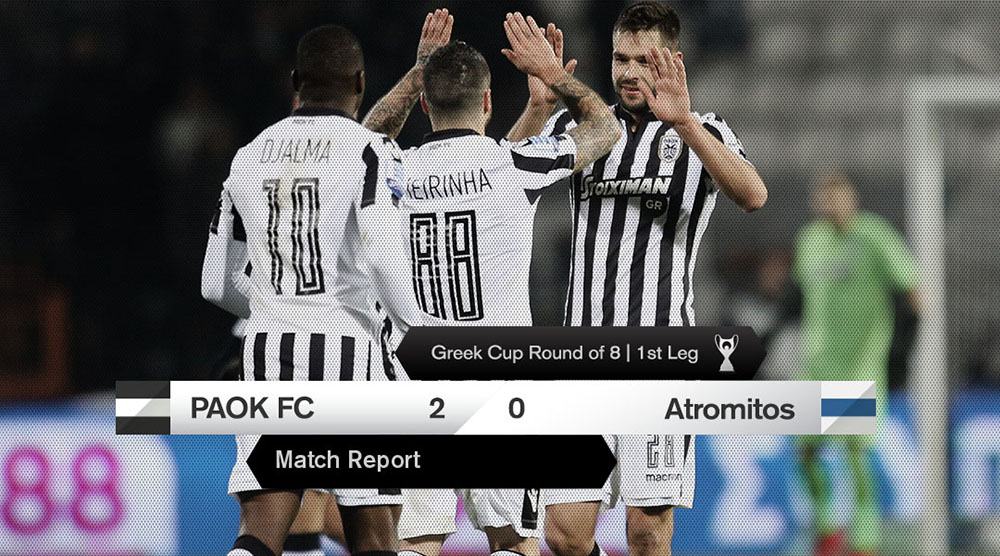 Solutions encountered against an excellent rival
The "Double-Headed Eagle" started strongly and got in the driver's seat. They also managed to score an early opener through Dimitris Pelkas in the 19th minute, following a masterful move by Adelino Vieirinha and a back-heeled assist by Yevhen Shakhov. The Greek attacking midfielder however got unlucky at the stroke of half hour, breaking his nose and leaving the pitch.
Efthymis Koulouris failed to extend PAOK's lead in the end of the first half with a side shot.
After the interval, Atromitos dominated proceedings by pressuring high up the pitch and disrupting the home players' passing game. They often visited PAOK's box but failed to create a big opportunity.
The "Double-Headed Eagle", on the contrary, were more dangerous. Léo Matos's header from close range remarkably went just wide. Shakhov's header though on a cross by Omar El Kaddouri landed at the back of the net in the 84th minute, giving a significant advantage to PAOK ahead of the second leg in Peristeri. However the quality of Atromitos is such that complacency is out of the question.
Line-ups:
PΑΟΚ: Paschalakis, Matos, Varela, Malezas, Vieirinha , Cimirot, Shakhov, Pelkas (35' El Kaddouri ), Limnios, Mak (78' Campos), Koulouris (64' Prijović).
Αtromitos: Mirković, Risvanis, Natsos (84' Umbides), Karasalidis, Sakic, Vasilakakis, Madson, Diguiny, Dauda (72' Vasiliou), Bušuladžić (83' Kyriakidis), Kivrakidis.