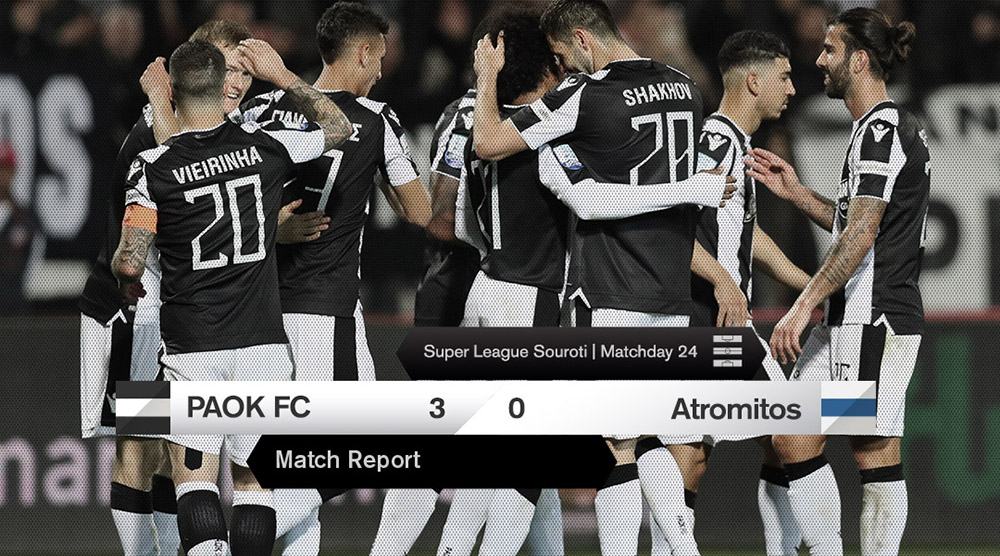 Răzvan Lucescu's troops came out victorious from yet another final, as they subdued mighty Atromitos. The Peristeri outfit fought to get a positive result, but there is no stopping PAOK this season. Undefeated "Double-Headed Eagle" continue their determined march towards the league title.
Compared to the encounter against Panathinaikos in the Olympic Stadium of Athens, PAOK head coach fielded Sérgio Oliveira in midfield, while Pedro Henrique took the place of suspended Léo Jabá .
The first noteworthy chance to score was created by Atromitos. Following a free-kick by Umbides in the 6th minute, unmarked Madson fired wide. PAOK took no time to react and staged a siege on the other side of the pitch.
PAOK came close to an opener when Chuba Akpom was brought down by Katranis, but Adelino Vieirinha's spot kick was saved by Theodorakis.
For all their potential, PAOK were struggling to make much creative capital out of the situation and problems multiplied, when Maurício got injured and had to withdraw. The home side continued to push though, came close with Oliveira, Vieirinha and Pedro Henrique, but didn't break the deadlock until the 39th minute, when Sérgio Oliveira headed home Vieirinha's sensational cross. But the first half was far from over.
Deep into stoppage time before the interval, Akpom slalomed his way into Atromitos's box and was brought down by Madson. Diego Biseswar stepped forward to take the spot kick this time around and beat the rival goalkeeper for a 2-0 lead.
The second half kicked off with a gilt-edged opportunity by Akpom. One minute later, it was Bruno's turn to waste Atromitos's best chance to score in the game from point blank.
Pace dropped as the match reached its final stretch. In the 81st minute, Karol Świderski sealed PAOK's 3-0 victory. In his usual pattern, the Polish striker came off the bench to score. He collected Biseswar's assist and coolly dispatched the ball with the goal at his mercy.
PAOK lead the standings with 64 points, seven more than second-placed Olympiakos, with six matches remaining until the end of the season.
Line-ups:
PΑΟΚ: Paschalakis , Μatos, Varela , Crespo , Vieirinha , Οliveira, Maurício (22' Shakhov ), Biseswar , Limnios , Henrique (63' Giannoulis ), Akpom (80' Świderski).
Atromitos: Theodorakis, Κatranis (46' Μanousos), Strougis (58' Kotsopoulos), Κarasalidis, Κivrakidis, Madson, Bušuladžić, Sakic, Umbides (84' Kort), Bruno, N'Sikulu.