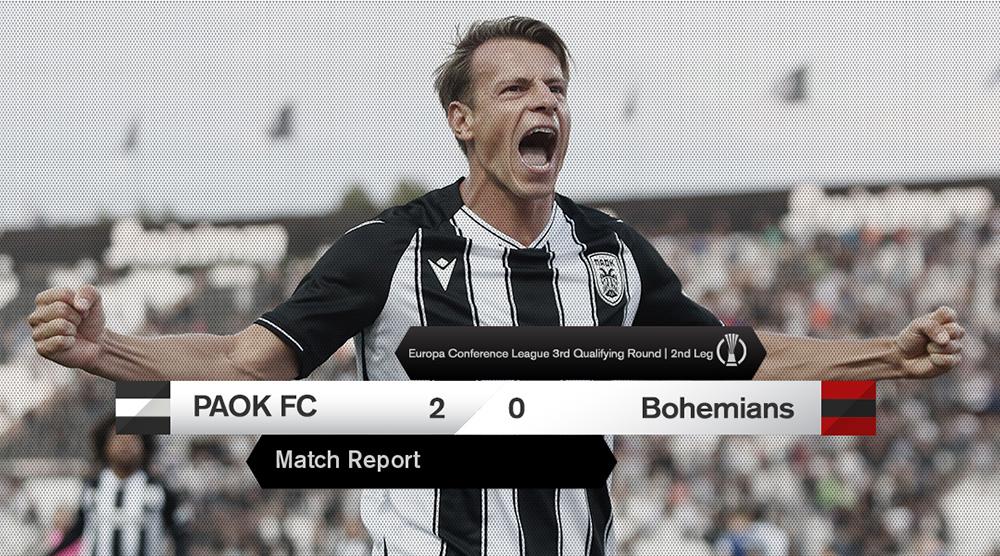 Comeback and qualification
Razvan Lucescu had stressed on the eve of the match that his players had a great desire to qualify. The Double-headed Eagle coach's words were justified from the first few minutes of the match, as his team made an impressive start, signalling their intentions from the kick-off.
In only the 4th minute of the match after a corner by Andrija Zivkovic , the ball ended up with Diego Biseswar and he sent over a pin-point cross for Schwab , who made it 1-0 with a well-directed header.
With their confidence soaring after the quick goal, PAOK pushed to increase their lead, forcing their Irish opponents back.
Biseswar then struck to make it 2-0 in the 28th minute. The Double-headed Eagle midfielder raced on to an assist from Omar El Kaddouri and from a central position beat the opposing goalkeeper with a low, side-footed effort to put PAOK ahead in the tie.
El Kaddouri was then the major protagonist in the two next most important phases if play up to half-time. The Moroccan initially scored a beautiful 'goal', but both the assistant referee and the referee waved play on. They were proved to have been incorrect in their decision because replays showed that the ball had clearly crossed the goalline. El Kaddouri then missed a great chance shortly before the end of the half as he blazed high over the bar from a great position after being teed up by A. Zivkovic.
In the second half the pattern of play did not change. PAOK managed the game well, and fashioned some good openeings for more goals, while the visitors on their part did not manage to convert any of the two good chances they created when they failed to unlock an otherwise well-drilled Double-headed Eagle rearguard.
Razvan Lucescu's side then achieved their goal, showed a significant improvement in comparison to the match in Dublin, and they now await Rijeka at the Toumba next Thursday for the first match of their UEFA Europa Conference League Play Offs tie.
Team lineups:
PAOK (Razvan Lucescu): Paschalakis, Rodrigo (85′ Taylor), Varela, Michailidis, Vieirinha, Kurtic (73′ Esiti), Schwab, Biseswar (85′ Murg), El Kaddouri, A. Zivkovic, Oliveira (73′ Swiderski)
Bohemians (Keith Long): Talbot, Lyons (86′ Feely), Cornwall, Finnerty, Breslin, Buckley, Coote (62′ Ward), Devoy (85′ Mahon), Burt, Tierney (78′ Levingston).