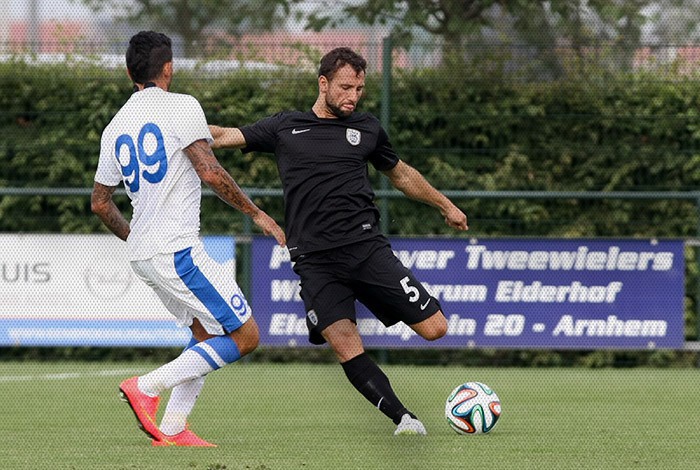 PAOK suffered a 1-0 defeat by Dnipro Dnipropetrovsk
PAOK suffered a 1-0 defeat by Dnipro Dnipropetrovsk in a tough encounter, their second preseason friendly on Dutch soil.
Angelos Anastasiadis tried out two different line-ups, giving time to all available players of his roster. Tempo was low in the first half and there were hardly any goalscoring chances. PAOK closed all paths leading to their box. Melissas' goal was only threatened by… Panagiotoudis, who tried to clear a cross and sent the ball to the crossbar.
The "Double-Headed Eagle", fielded in a 4-3-3 formation, were very compact and didn't allow the Ukrainians, who are way ahead in their preseason and were competing with their starting line-up, to create them problems. Dnipro were threatening only through individual mistakes of PAOK players. But, as Angelos Anastasiadis noted, such errors should happen during preseason in order to be corrected later.
PAOK changed players and tactics after the interval, switching to the 3-4-3 they had tried for a half of their match against Standard de Liège. The "Double-Headed Eagle" players were in control of the game from time to time, but were not coolheaded enough to produce clear goalscoring chances. However, they remained solid defensively, controlled spaces and maintained the slightly elevated rhythm of the encounter. The referee pointed to the spot after 70 minutes, when Kalinić bumped into Giakoumis as the latter was late in coming out of his goal, but anyway did not bring his rival down. Seleznyov converted the penalty giving Dnipro the 1-0 lead. The score remained unchanged despite PAOK's final push for an equalizer.
On the positive side, Raț, Kace and Qose made their debut, giving their coach more options. Anastasiadis could not count on Spyropoulos nor Vítor, who had a strain in the right calf and it was deemed preferable for him to rest in order not to aggravate his condition.
Line-ups:
PAOK 1st half: Melissas, Kitsiou, Raț, Katsikas, Qose, Panagiotoudis, Savvidis, Golasa, Pozoglou, Martens, Papadopoulos.
PAOK 2nd half: Giakoumis, Skondras, Pozatzidis, Maduro, Konstantinidis, Popovic, Kace, Polyzos, Tzandaris, Athanasiadis, Koulouris.
Dnipro Dnipropetrovsk: Boyko, Mazuch, Douglas, Fedetskyi (73' Vlad), Kankava (46΄ Politylo), Konoplyanka (73' Blyznychenko), Matos, Gama (46΄ Seleznyov), Rotan (66' Fedorchuk), Zozulya (63' Kalinić), Matheus.