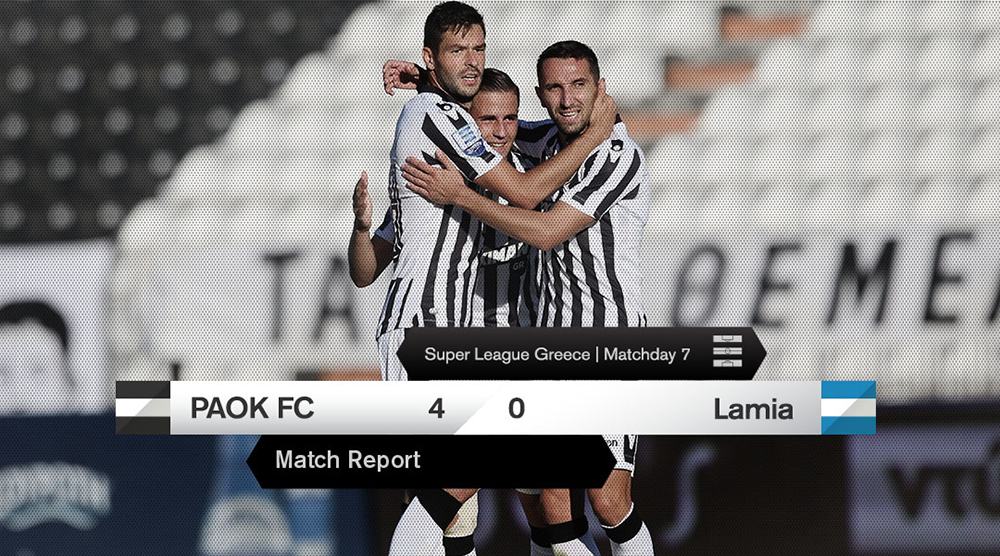 PAOK left Lamia no chance
Marin Leovac imitated  Léo Matos  in the 9th minute and scored the opener with a flat shot from within the box, following a splendid through-ball by  Maurício . Getting the early lead boosted the confidence of PAOK players against a side who were defending in numbers.
From then on, the hosts encountered much more space on the pitch and they went for the kill patiently.  Aleksandar Prijović  collected Dimitris Pelkas's pass in the 24th minute and made it 2-0 with the goal at his mercy.
After the interval, PAOK kept total control of proceedings. They were creative, pressured high up the pitch and extended their lead in the 51st minute. Adelino Vieirinha's pin-point cross was met by Pelkas, whose volley made it 3-0.
The match pace dropped afterwards, but Lamia failed to create any danger in Rey's box, as Răzvan Lucescu's troops dominated control. The introduction of Róbert Mak,  Dimitris Limnios  and  Diego Biseswar  provided PAOK with fresh legs and more chances to score. Prijović converted one of them, following an assist by Matos, and sealed his brace.
With a high morale, following a much-needed comfortable victory, PAOK are now gearing up for next Sunday's clash against Olympiacos.
Line-ups:
PΑΟΚ:  Rey , Zambrano,  Crespo , Leovac (68'  Limnios ),  Matos ,  Maurício ,  Shakhov  (75'  Biseswar ),  Vieirinha ,  Pelkas  (61' Mak),  El Kaddouri ,  Prijović
Lamia: Papadopoulos, Panteliadis, Anastasiadis, Koukolis (40' D'Acol), Asigba, Blažić, Omo, Acosta, Piti (55' Anastasopoulos), Vasilantonopoulos, Wanderson (62' Linardos)